Thunder in the Mountains
The Havaco Story
---
Many long years have passed since two major mine explosions rocked the small community of Havaco, West Virginia. Havaco, formerly known as Jed, lying on Tug Fork of the Big Sandy River in McDowell County, would never be the same.
---
1912 JED MINE EXPLOSION
On the morning of March 26, 1912, the Jed Coal and Coke Company mine at Jed, West Virginia, exploded killing eighty miners. The mine employed about one hundred underground miners on each shift. Reports indicated the flame from an open light, commonly used by all miners at that time, ignited methane gas in the mine which in turn ignited coal dust that had accumulated during mining. In the blink of an eye, another mine disaster had occurred. Some of the eighty were killed by asphyxiation, many others died from heat and flame. On the outside the blast was not as destructive as others had been, but on the inside the effect was devastating. State mine inspectors and miners from nearby mines arrived on the scene shortly after the blast and assisted rescue workers in their search for survivors. That afternoon, after several previous attempts had failed, due to smoke and heat, a group of rescue workers were finally able to enter the mine. Great care had to be taken to insure that the rescuers did not become victims themselves. The force of the blast had blown mine timbers down, allowing about a foot of slate above the coal to fall. The downed slate severely hampered the efforts of rescue workers. Crews of men worked around the clock hanging brattice cloth for ventilation and moving the fallen slate in an attempt to reach the men, hoping to find survivors. Survivors were not to be found. Even with the tireless efforts of rescuers, two days passed before the first bodies were recovered and carried outside. On the hillside below the mine, at a location known as Little Egypt, several crews of men were digging graves for their fallen comrades. Coffins, which were in short supply, were brought in by train along with undertakers needed to prepare the men for burial. As the men were brought from the mine, each was identified by family or friends. Some were taken away by family for private burial. Most were placed in a coffin and buried nearby at the newly prepared cemetery. On March 29, 1912, the last bodies were brought from the mine. The blast at Jed created a list of casualties far exceeding any suffered in the upper Tug Fork valley.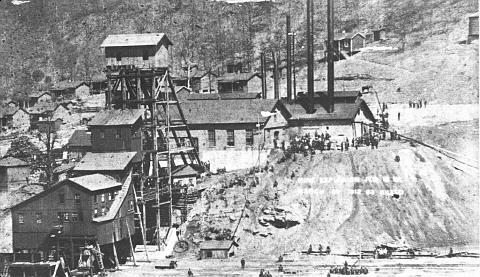 Tipple at Jed (Havaco) March 26, 1912 (day of explosion)
(photo courtesy of Ken Bowen)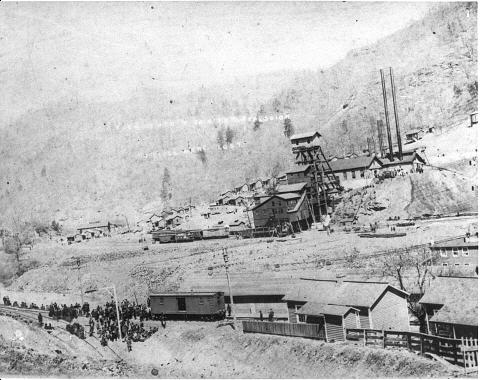 Tipple at Jed (Havaco) March 26, 1912 (day of explosion)
(photo courtesy of Ken Bowen)
JED VICTIMS
John Agash, Merco Agnew, Sol Agnew, Joe Borotz, Guiseppe Capara1, Charles Chandler, Jack Chandler, Willie Denton, Alex Dombroski, Emilio Flex, Dettino Flex, Rinaldo Flex, John Fleshman, John Fuigley, Andrew George, Robert Gillispie, Lee Gilman, I. C. Gilmer, Mike Gosgashi, Frank Goyla, Mike Goyla, John Greley, Mario Guidolotti, Mike Guydluck, Sam Hampton, Tony Harendo, Henry Harris, William Harris, James Haynes, William F. Helton, Frank Hill, Steve Howard, Samuel Jefferson, Ed. Johnson, Alex Kissavich, Valley Lash, James Leeper, Paul Matee, Sterling Martin, Ed. McClure, John McClure, Adam Mimsick, Frank Molnar, John Moto, Steve Moto, Kalman Papp, James Parsons, Mike J. Patt, Bruno Pecos, R. E. Pennington, Domineck Perri, Frank Rice, Joe Ross, Alex Sabo, John Sammy, Thomas J. Sanders, Peter Sarvoliski, Peter Sowalski, Berta Selida, Sam Ski, George Smith, Alex Solaski, Goivanni Sovanni, Carmelo Spagnoula, Francisco Spagnoula, Victor Steele, Nick Stid, Ted Swabie, Mike Syntor, Steve Szatmaria, Alex Tarantello, Wilson Terryall, Emmett Terry , Mike Williams, W. J. Woodward, Steve Yaskoney and Andre Zavechy
---
1946 HAVACO MINE EXPLOSION
On the morning of January 15, 1946 the New River & Pocahontas Coal Company, No. 9 Mine, Havaco, West Virginia, became the scene of disaster when the mine exploded killing 15 and injuring 37. The McDowell County mine explosion amazingly left 200+ underground miners unhurt. Many of the dead and more severely injured were working at or near the bottom of the mine shaft and eleven of the injured men were working at the tipple. Casualties could have been much worse if the explosion had taken an underground course like the Jed explosion, but luckily for many, most of the force was directed outside of the mine. The fact that 215 miners escaped death during this devastating event is a miracle. The majority of men underground at the time of the blast were working a mile or so from the main shaft. With all other avenues of escape blocked or destroyed the miners had to climb a 275 foot escape stairway in the air shaft to freedom. The first survivors walked out of the mine nearly an hour after the blast. Some of those who came later were nearly unconscious and had to be carried or dragged. The miners with more serious injuries had to be transported outside by a hurriedly arranged cable and bucket assembly. The last body was recovered from the mine at about 5:00 p. m. The ignition source for the explosion was never officially determined, but federal and state agencies stated in preliminary reports that the explosion had been caused by coal dust. There were reports that during the blast flames jumped three hundred feet into the air and bystanders were knocked to the ground. The blast destroyed the tipple at the mine and also smashed doors and shattered windows in many of the houses and other structures in Havaco. Windows were reportedly broken as far away as Welch, located almost 2 miles away. Around 550 men were employed at the Havaco mine, split between two shifts. Of that number all but about 50 worked underground.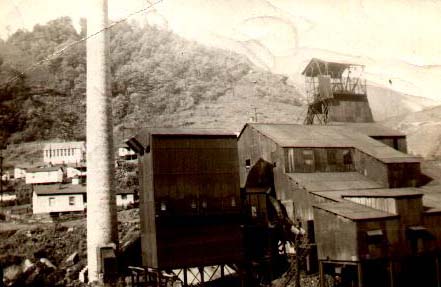 Tipple at Havaco in early-1950's
(photo courtesy of Dennie Mitchem)
Tipple at Havaco in late-1950's
(photo courtesy of Ken Bowen)
HAVACO VICTIMS
Ira Alderson, Ab. Amburn, Earl Belcher, Ernest M. Bell, Walter Bell, Lawerence Carper, William Cooper, James A. Gibson, Clarence Hale, Thomas Cleveland Hale, Albert R. Miller, Pete Morgan, John L. Smith, Luther Talent and Luther Tolley
Tipple Site at Havaco 2002
(photo by David Grubb)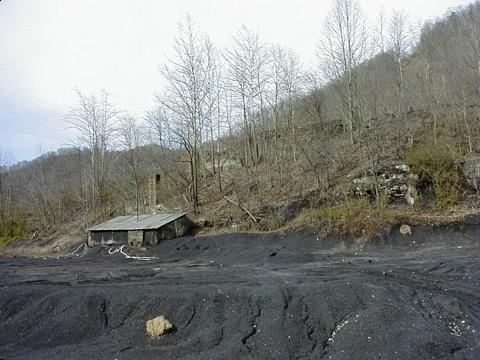 Tipple Site at Havaco 2002
(photo by David Grubb)
Additional Jed and Havaco Photos
Other McDowell County Mine Disasters
Southern West Virginia Coalfields
Little Egypt Lost - By Dolores Davis
The background song on this site is "Havaco" Performed by Alan "Cathead" Johnston and is just one of the many fine songs on the McDowell County Project CD. "Muddy Water" and "The River Ran Black" are also included on the CD. In addition to Alan, his 3 daughters, Becki Burks, Jessi Shumate, and Stacy Grubb are featured on the CD with special guest musicians Charlie Davis and Nathan Lawson.Click the link below to hear samples of some of the other songs.
The McDowell County Project CD - A new release by Alan Johnston, family and friends
The Hallelujah Project CD - A new release by Alan Johnston and family
---
---
If you have photos you would like to share on these disasters, please let me know.
---
The days of labor intense mining have long since passed and given way to mechanized mining, requiring less people. This along with more stringent federal and state mining laws has insured that mining disasters of the magnitude mentioned above are not likely to ever happen again.
There are no active mines at Havaco now. The old mine was sealed and the tipple dismantled years ago. The people in the community of Havaco are trying to put the tragedies of the past behind them and move on to the future, keeping only the memories of loved ones lost long ago.
---
Victims
Please be still my weary child ...
there is no need to cry ......
Mortal men may leave this world ...
but memories never die.....
Times were hard back then my friend ...
those memories will last .........
Until the tears are shed no more ...
for victims of the past.........
---
---
If you have comments or would like to add a link to your site, please let me know.

---
Dedicated to the memory of Claude Everette Stroupe, Sr. (1907-1997), injured survivor of the 1946 Havaco Explosion,
and thousands of others who have been injured or killed while mining a substance known as "Coal"
---
Visitor since March 11, 2001
---
Source Information: Book entitled "They Died In The Darkness" by Lacy A. Dillon, Ravencliff, West Virginia, The Welch Daily News, Welch, West Virginia, and The Bluefield Daily Telegraph, Bluefield, West Virginia. Special thanks to the residents of Havaco, West Virginia, for sharing their memories.