Click on images to enlarge

Stromberg-Carlson 1101-HB
Pre-1948 (Nostalgia Air)
An auction find, this Bakelite table model has six tubes, and although cosmetically very good, it has been gutted beyond my skill to restore so it will remain a shelf queen until I get a lot better at this.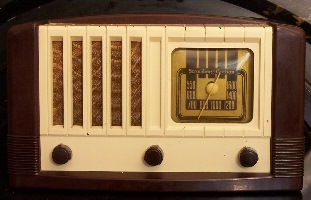 Stromberg-Carlson 900H
Pre-1942 (Nostalgia Air)
Another auction find, this was acquired along with the Radiola below.
It has six tubes, one band. The bakelite case is identical as are the knobs, but it's painted and the grill cloth is different also.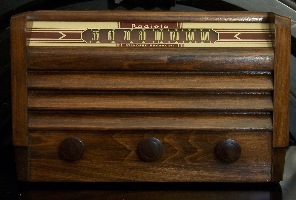 Radiola 61-3
Pre-1949 (Nostalgia Air)
Another six tuber, very similar circuit to the SC's above.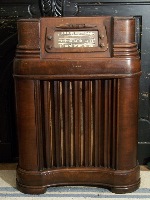 Philco 46-480
Currently on the bench, that's why the empty cabinet.
Part of the "instant" Philco collection.
This one has four bands BC, SW, Police, and FM, although there is no scale for Police on the dial.
This one will have a place in my studio, replacing the crappy old RatShak® (or is that ratty old CrapShak?) portable.
Can't say I cared much for the cabinet, but it grew on me.