Welcome to
Ellen Harrington.com
>>> Site maintained by LJGates.com <<<         
---------------------------------------------------------------------------------------------------------------------------------------------------------------------
You will see  Ellen "sitting in" with New York Country and others….
Singer Ellen Harrington harks back to a time when country music was less slick, and more honest. A time when yodeling and Hank Williams were good things.
She's been winning contests and the hearts of regional fans for years now, and made an impressive CD with her band Smokin' Guns. But now she has put together 3 self penned songs that promise to bring her to a new level.
At first glance, you wouldn't think upstate New York is a hot bed of country music, but maybe it is. The biggest selling female artist of all time ? Shania Twain - she started out there from her home in Saranac Lake, New York. She drew from the area for musicians, most of which appear on Ellen's demo.
Ellen's voice is strong, flexible, and emotional. The sound is timeless, old time country - from the fun, finger pointing "It Ain't Country," to the gorgeous waltz "Why Don't They Make Hearts like They Used To?" and soon to be Christmas classic "Christmas Teddy Bear."
In fact, listening to these tunes is bound to make you think, why don't they make country music like they used to? Ellen Harrington still does. Dave Malachowski
Check out David Malachowski.com (producer and guitarist of both cd's)
---------------------------------------------------------------------------------------------
Check out www.indieworldcountry.com  - "It Ain't Country" was #21 as of 9/11/04 !!!!
Much interest has been generated lately by www.countrybear.com  and KOCR www.sweetsouthernsounds.com (internet radio providers) – The song "It Ain't Country" is on their playlist .
---------------------------------------------------------------------------------------------
CD's are available by sending a check or money order to
Ellen Harrington
107 Stillson Road
Sidney Center, NY 13839
$5 for the three song demo ("It Ain't Country")
$10 for Ellen Harrington and Smokin' Guns (5 songs)
(add $3 for shipping)
<![if !vml]>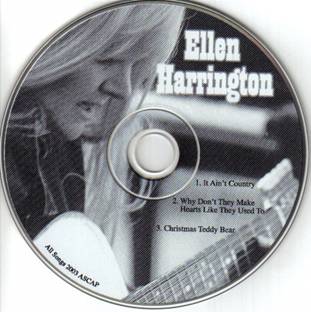 <![endif]><![if !vml]>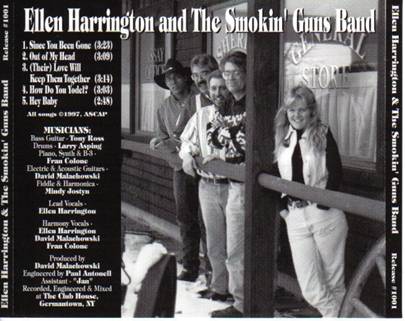 <![endif]>
________________________________________________