Blue Moon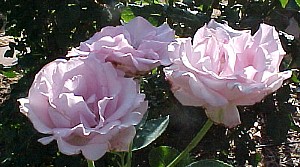 I bought Blue Moon at our Walmart in 1999.
Tag Description:
Mauve blend blooms. Strong fragrance. Large bloom form. Repeats its bloom again later in the season.
My description:
January 2006- I love the color of this rose and it smells really great, but... it gets yellow spots on it's leaves. I had the same problem with Peace. They are in totally different spots, too. If it still does it this year, I may dig it out and give it away.
---
© Webmaster: Robin Cramer 2006