Hello Dolly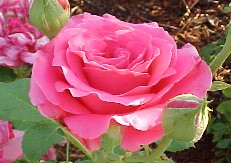 There seems to be a problem with Hello Dolly. No one wants to claim her. I bought her at Walmart a few years ago.
She is Plant Patent No. 3819. Her description is: Rich, deep piink blooms of excellent form and color. Good cut flower. The bush is vigorous growing with disease-resistant foliage. Everblooming Hybrid Tea Rose.
My description:
January 2006- Hello Dolly is one of my favorite roses, she is a deep, rich pink. Her blooms have perfect form. She always has tons blooms at the same time. They are gorgeous, full awesome pink blooms.
---
© Webmaster: Robin Cramer 2006