Solitude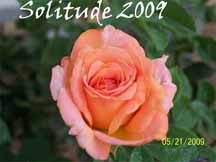 I bought Solitude at the Kingman Home Depot, March 2007.
Tag Description:
Large clusters of full double flowers are a lively orange and yellow blend. Repeat blooms later in the season.
My description:
I bought this because of the color, I don't have enough orange roses. I can't wait until it blooms.
---
© Webmaster: Robin Cramer 2006