Frequently asked Questions
CAN YOU ACCEPT VISITORS?
Yes, but since there are no actual facilities to stay on the Ranch just yet, visitors need to be sure they make an appointment. Otherwise, they may not be able to fully benefit from their efforts to visit. Someday soon, hopefully, a manager will live on the Ranch and visitors will be more easily accommodated.
WHY DID YOU CHOOSE SUCH A REMOTE LOCATION?
In a search for properties in seven western and southwestern states, we determined that certain criteria of climate, size, price, topography, vegetative and ecological characteristics, and future potential had to be met. This parcel of land, amounting to 40 acres in size, was deemed to fit all of the above requirements in outstanding fashion.
HOW LONG HAS THE RANCH BEEN IN EXISTENCE?
The property was initially purchased in late 1998. Work on the garden aspects began in 1999, and is continuing apace.
ARE THERE ANY BUILDINGS YET?
There are currently no large structures on the property, although a storage shed has been completed. It is hoped that the first building will be started sometime in late summer or fall 2001. (info on building here)
WHAT DOES THE PROPERTY LOOK LIKE?
At about 33 feet (10 meters), this is one of the tallest saguaro cacti at D:FR
As you can see from the photos, the terrain is mid-elevation desert cactus shrubland. Hills and rocky outcrops stud the area, with flat to gently sloping terrain often abruptly transitioning to the hills. Destination: Forever Ranch offers a blend of these two types of topography, which was part of why it was selected. We are in the western foothills of the Hualapai (pronounced wall-a-pie) Mountains, in an ecological transition zone between three major Western United States biomes. The Mojave Desert lies to the north, while the Sonoran Desert lies to the south, and the Arizona Interior Chaparral/Great Basin zones blend in from the Hualapai Mountains to the east. The result is that plant and animal species from all three zones are found on the property and in the region, making for rather remarkable scenic diversity and biological interest. The Ranch is located at an elevation of 3000 feet, with the main ridges of the Hualapai Mountains rising to over 6000 feet on a verage, and up to 8400 feet. (info on geography and geology here)
HOW MANY PLANTS HAVE BEEN ADDED TO THE PROPERTY?
An exact count is difficult at this point, but we estimate that over 2000 cacti, succulents, shrubs, and small trees have been planted so far. As many as 20,000 to 30,000 may be planted eventually. As in most botanical gardens, however, this planting will take place over considerable time and the gardens will take years to reach full maturity and diversity.
WHAT SORTS OF PLANTS HAVE BEEN ADDED?
Thus far, most of the items added are native plants such as ocotillo, Joshua trees, barrel cactus, and hedgehog cactus. These have been obtained primarily as salvage plants from roadway easements occurring as a result of development in the area. Some additional nursery-grown purchased and bartered materials have also been installed, like golden barrel cactus and organ pipe cactus. (info on plants here)
HOW DO YOU WATER?
Currently, watering during dry spells is done by hand with water hauled out from a community well site in the town of Yucca. Sometimes it actually even rains enough to make a difference! We like it when that happens.... We hope that a well can soon be drilled and water pumped using a DC solar system and storage tanks.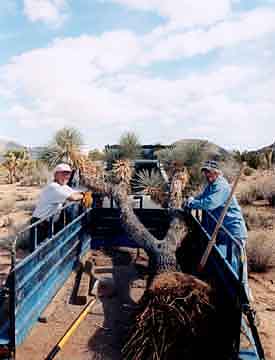 Transplanting a large Joshua tree from a roadway construction site to the garden
WHERE CAN I OBTAIN MORE INFORMATION?
Direct inquiries to Jan Emming, e-mail jemming@destinationforeverranch.com Further information will be forthcoming soon.
Thank you for visiting the Destination: Forever Ranch and Gardens website. Please enjoy the rest of the site. Remember to check back soon! New information and pages will be added as time permits in summer 2001. Have a pleasant day.