AREA ATTRACTIONS AND THINGS TO DO
The area surrounding Destination: Forever Ranch offers a wide variety of pursuits, ranging from outdoor activities to gaming and shopping. D:FR itself is located about 17 miles southeast of the small town of Yucca, Arizona, population about 250. Here is a list of sights to see and activities to participate in while in the area.
WITHIN MOHAVE COUNTY
STAY AT A LOCAL GUEST RANCH
There are currently no lodging options in the Yucca area, with one exception. Fortunately, it is a wonderful option that we here at D:FR are most pleased to recommend. This would be the Stagecoach Trails Guest Ranch, located in the same area as D:FR and an integral part of the community that is developing in this region. Open for business since December 2000, the Guest Ranch has been featured in a British Broadcasting Corporation (BBC) special seen by nearly 10 million viewers in Britain in August, 2001. Upcoming articles will highlight the Guest Ranch in American Cowboy magazine in November/December 2001, and in Sunset magazine in November 2001. The BBC special will air in the United States at some point this fall, but it is yet to be determined as to exactly when. The Guest Ranch also recently received a mention in National Geographic Traveler magazine, and was also filmed by a German television crew in May 2001.
Why all the media fuss? Well, it is probably because the Stagecoach Trails Guest Ranch offers a warm, welcoming environment for all of its guests, but it may also be because the Guest Ranch has one particular focus that makes it special. The Guest Ranch is fully handicapped accessible, and that includes all the activities offered. Their specialty is offering horseback riding for all people, and considerable attention has been given to making that experience available to those in wheelchairs as well. Located on 200 private acres adjacent to thousands of acres of BLM land, the Guest Ranch offers recreational opportunities ranging from horseback rides of any length to hiking to quiet contemplation. The Guest Ranch also offers a swimming pool, spacious and tastefully decorated rooms, and all meals for one price.
For more information, contact the Stagecoach Trails Guest Ranch. Other lodging options are available in the cities of Kingman and Lake Havasu City, Arizona, and in Needles, California.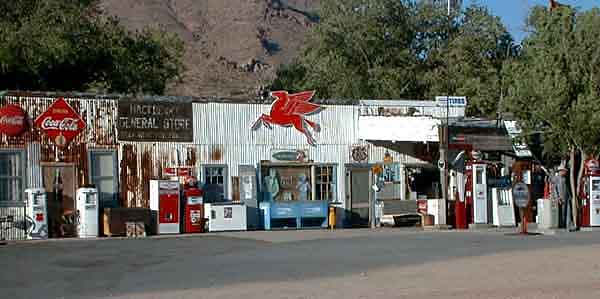 Hackberry General Store, popular tourist attraction for Route 66 nostalgia
Kingman (pop. ~25,000) is the county seat of Mohave County, Arizona. Founded in the late 1880s, Kingman is the one of the oldest communities in the area, and has long been a regional center for transportation and tourism. Arizona boasts the longest intact stretches of historic Route 66, which was for decades the main route west across America, originating in Chicago and terminating in Los Angeles. Kingman bills itself as "The Heart of Route 66", since it lies in the center of most of what remains of the old highway in Arizona. About 10 miles south of town lies the beautiful Hualapai Mountain Park, a county park that embraces the rugged and scenic Hualapai Mountains. The cool 7000-foot- plus altitude offers a respite from the desert heat below, with pine and Douglas fir forests cloaking the numerous rocky outcrops. Hiking trails to the summit of Hualapai Peak (8417 feet) offer dramatic panoramic views for 100 miles in all directions.
LAKE HAVASU CITY (pop. ~45,000) lies on the banks of the Colorado River, now impounded in the form of Lake Havasu. Founded in 1964, Lake Havasu City has grown rapidly from non-existent to being Mohave County's largest city. Chainsaw-manufacturing magnate Robert P. McCulloch used a now world-famous ploy to put the new city on the map in the late 1960s. He purchased the London Bridge for $2,460,000 and shipped it thousands of miles from the City of London to the Mojave Desert, where a channel was dredged from the newly created Lake Havasu for the bridge to span. Naturally, London Bridge is now a major tourist attraction of the area. The lake itself offers water sports such as boating, jet-skiing, and fishing and is a major vacation destination for Southern Californians as well as Arizonans. A Colorado River recreation area known as the Parker Strip lines a very scenic desert canyon on both sides of the Colorado River south of Lake Havasu; state parks in the area include Cattail Cove and Buckskin Mountain.
| | |
| --- | --- |
| | A Mojave yucca (Yucca schidigera) and a red barrel cactus (Ferocactus acanthodes) jockey for space on a steep, quickly eroding granite slip face in Grapevine Canyon, Lake Mead National Recreation Area, a short drive from Laughlin, Nevada. Grapevine Canyon was frequented by Native American Paiute tribes and, because of the presence of surface water much of the year, is still home to many plant and animal species |
BULLHEAD CITY, AZ and LAUGHLIN, NV (pop. ~ 40,000 combined) occupy respective sides of the Colorado River. Laughlin is becoming widely known for its large casinos lining the Nevada side of the river. Like Lake Havasu City, neither town amounted to much more than a dot on the map in 1960 prior to the creation of Lake Mohave behind Davis Dam just north of the towns. As might be expected with a casino town in Nevada, gaming of all kinds and the attendant entertainment and restaurants attract visitors from all over the United States and the world. Lake Mohave is part of Lake Mead National Recreation Area, which offers all of the expected water-related pursuits as well as a wide array of marvelous desert hiking opportunities, especially during the cooler winter months.
| | |
| --- | --- |
| Every year between Thanksgiving and New Year's, the town of Oatman hosts a "Christmas Bush Decoration Contest". Local individuals and families pay an entry fee, choose a shrub of any type along Route 66 somewhere near Oatman, and decorate it to try to win prizes for creativity and artistry from local merchants. This is one of the entries for the Holiday season 2000 | |
OATMAN and CHLORIDE (pop. ~250 each) are both partially inhabited ghost towns, perhaps more accurately referred to as mining towns, since that is what both were once founded for. Oatman is located about 30 miles southwest of Kingman on Route 66, as it makes its most dramatic passage through the wickedly rugged volcanic Black Mountains. The drive on both sides of Oatman is one of the most scenic in Arizona, a state already known for its outstanding scenery. Chloride is about 20 miles north of Kingman off US Highway 93, the main highway between Phoenix and Las Vegas. Both towns offer quaint gift shops and art galleries in a charming Old West setting.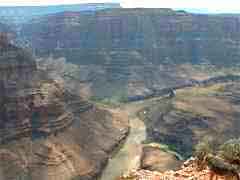 Grand Canyon West
MEADVIEW (pop. ~2000) is the only town in Arizona that has boat access to Lake Mead, since Lake Mead is otherwise largely ensconced in canyons. There is a truly amazing Joshua tree forest between the towns of Dolan Springs and Meadview. In fact, the forest is one of the best in the state of Arizona and indeed anywhere, with some Joshua trees reaching 40 feet tall and having trunks over two feet in diameter. Also nearby are the Hoover Dam, still one of the most graceful lumps of concrete weighing millions of tons we can think of, and Grand Canyon West, which is the western terminus of the legendary Grand Canyon. A bonus to visiting Grand Canyon West is the lack of intense tourist traffic experienced at the heavily frequented South Rim.
ALAMO LAKE STATE PARK is located about 60 miles to the south of Yucca and is known for excellent warm-water bass fishing. The drive from the north, which is the way to get to the lake from Yucca, is quiet and seldom traveled, even though the gravel road (Alamo Road) is usually in very good repair. It winds through magnificent stands of Joshua trees and saguaro cacti, and passes old mines and deeply incised canyons for much of its length. There are RV hookups, toilets, and developed camping spots at the lake, but they are located on the south shore, which is an additional 150-plus miles of driving away despite being visible across the water less than two linear miles distant. When the lake was created in the 1960s, it flooded the only crossing of the Bill Williams River on Alamo Road. So near yet so far, as the saying goes.... Still, the drive itself is very worth the effort, especially if a loop tour is made using Signal Road into the town of Wikieup. There one can have dinner and eat rattlesnake snacks (in season May to October only) as appetizers at the Wikieup Trading Post and then drive back over the scenic Chicken Springs Road to Yucca. This is one of our favorite tours due to its proximity to D:FR. A T-shirt to commemorate the appetizer occasion can be had for about $12.
Outdoor activities in Mohave County are diverse. Geographically speaking, Mohave County is the fifth largest county in the US at 13,285 square miles, which is larger than nine US states. The county has over 1000 miles of shoreline on four main lakes and rivers and offers water-based recreation most of the year, thanks to its warm climate. Also available are thousands of acres of pristine desert terrain, much of it publicly owned and managed under the auspices of the BLM. Hiking and low-impact camping are encouraged by D:FR; four wheeling off established roadways is not, due to the damage it causes to desert organisms from wildflowers to desert tortoises. The dry and warm climate is well-suited to many types of outdoor recreation all year-round, and we at D:FR encourage all sorts of non-intrusive desert appreciation. Photographic opportunities abound due to the diverse and outstanding scenery, and the wide elevation ranges (from 500 to 9000 feet) make for a fascinating floristic and faunal diversity. And, as we aim to prove at D:FR, desert gardening ought to succeed very well here indeed.
REGIONAL ATTRACTIONS
A brief list of things to see and do while in the region would have to include a few well-known National Parks and major cities. To do justice to all the area has to offer would require a book, and indeed such books do exist, so for the purposes of this website we will only touch on them. Within Arizona, Phoenix is the largest city and capital. Located about 180 miles to the southeast of Yucca, Phoenix has all the major-city attractions and amenities we expect. Grand Canyon National Park is located about 200 miles to the east of Yucca, and needs no introduction. Flagstaff is around 150 miles to the east and, with its high and cool 7000-foot (2100-meter) elevation, offers winter sports. Between Phoenix and Flagstaff lie the attractive communities of Prescott and Sedona, the latter famous for its red canyons and eroded rock spires.
Leaving Arizona for California, we at D:FR highly recommend the East Mojave National Preserve, created under the California Desert Protection Act in the late 1980s in an effort to protect this remarkably beautiful and terrifically fragile area from abuse by off-road vehicular use and the rampant subdivision afflicting Mojave Desert areas closer to the metropolitan Los Angeles area. The preserve begins just west of the Colorado River and extends across California towards the eastern outliers of the Los Angeles metroplex. Remote and seldom visited desert mountain ranges are not for the ill-prepared, but offer solitude and stillness for the 21st-century frazzled nerves of the American people. Be ready to be totally self-sufficient if you venture far from paved roads, but also be ready for desert treasures ranging from hidden hot springs to ancient petroglyphs and volcanic craters to underground caverns. Better known is the Joshua Tree National Park. Situated approximately a four-hour drive from Yucca, the park was created for the magnificent stands of this large yucca and the wonderful array of scenery and biology found in this region of the Mojave Desert.
To the north is Nevada and Las Vegas, which needs no introduction either. Spend your money at your own risk, however. Sort of leaving the area within true day-trip distance from D:FR, you can venture over to Death Valley National Park, which has the lowest elevations and hottest temperatures in the western hemisphere at -282 feet (-85 meters) and 134 degrees F (58 degrees C) respectively. Or you can take the "Golden Circle Of Parks" tour through southern Utah and hit Zion, Bryce Canyon, Cedar Breaks, Capitol Reef, the North Rim of the Grand Canyon, and Lake Powell National Recreation Area back to Arizona or continue north from there, as you see fit. There is certainly a good reason why so many national park units have been dedicated in this region of the country. We at D:FR are pleased to be located in the center of it all, despite the fact that some would consider us to be out on the edge of nowhere.