Sunsprite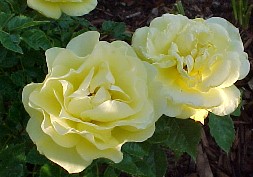 I bought this rose at our local Walmart April 2002.
Tag Description:
Floribunda rose with dark glossy foliage. Very fragrant, large, deep yellow flowers. a fast repeat bloomer. Good for hedges and borders. Hybridized by Kordes in 1977.
My description:
February 2006-This rose is a wonderful shade of yellow with ruffles. It bloomed very nicely last summer and again in the fall. My friend in Phoenix surrounded his front yard with this rose.
---
© Webmaster: Robin Cramer 2006