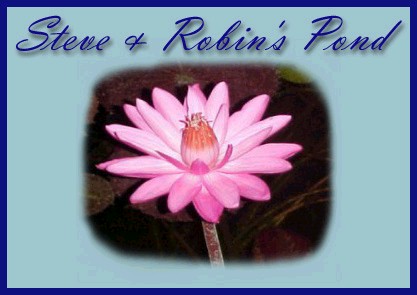 Website Est. July 17, 1997
Updated January 4, 2014
INTRO:
Welcome to Kingman, Arizona, we are in the Northwest corner, Zone 7. It is a great place to live and time has really flown since I started this website. I've had many ponds, they have come and gone. Gone is our big one as shown on the pond page. I got tired of it never being clear enough to see the fish, the water evaporation, the UV light not quite cutting it, nor the koi unpotting every pot in the pond that they could. I also got tired of replacing the UV light one year and the pump the next. My waterfall sprung a leak on the bottom of the 2' deep stack of flagstone and cement and I gave up.

I now have the 200 gallon tank that I was using for a filter as my pond. It is in my front yard under the tree. I have a few goldfish and some of the mosquito eaters in it. I have have two water lilies in it and some marginals. I have hornwort in it to keep it clear. So far so good, I've even had to rip part of it out because it grows so well.

We have the seasons and it gets quite cold in the winter (this year one week was down to 12 degrees at night) and not too hot in the summer, we may hit 108 on a high, but not too often. We have really great sunsets and sunrises. The purpose of this web page is to introduce you to ponds and gardening; one led to the other. We started with a blank yard 20 years ago when we got married.

Kingman is actually a great place to live. Laughlin, NV is 30 miles away if we get the urge to gamble which we rarely do. We have our own Hualapai Mountains; we go up there and camp during the summer or just spend the day for a picnic. It is usually 10-15 degrees cooler up there and we usually hike the trails during the summer months when it is too hot down here. California is only 60 miles away if you want to hang out in hot Needles, and Las Vegas is 100 miles away. We go there periodically for fun and shopping. It is much easier to go now that the bridge over Hoover Dam is done.

Our favorite camping is in Williams in the forest and there is also fishing in several lakes. Flagstaff is about 60 miles farther east past Williams and we like to go there also to have dinner and shop if we're in Williams. Our camping rule is we take the grand kids with us as they get older but they have to be potty trained, no diapers in the motor home

My husband and I have been amateur ponders for 20 years. He does all the plumbing and filter building for me. We have always talked about building a bigger in-ground pond and in 2004 we built the 2500 gallon pond. We've had many ponds and have taken down and rebuilt several times. We had the big pond for 9 years and I decided it was time to downsize. We tore down and hauled for 3 days to remove all the brick and then had to find dirt to fill back in. We now have a nice open back yard again.

We put a greenhouse in the yard in the fall of 2009. Steve and my son, Bryan built it. It is a 10'x12' greenhouse from Harbor Freight. We put two heat lamps in it during the winter and we put insulation on the North wall. Steve put three bars of conduit for stabilization and I have cheap fabric attached to it over the plant areas for shade. So far so good, this last winter I lost a couple of aloes that were too close to the South side of the building, but everything else is fine. I have a lemon and a lime tree that also over winter inside the greenhouse.

So, sit a spell and cruise through my site to see what we had and now have. I have ideas for recycling, building filters to flower beds and lots of pictures of my pond and gardens, with a bit of art and quilting on the side. I'm going to keep all the informational pages because they are still useful to someone whether or not I still have the big pond or not.
---
These links are to my web pages.
---
---
We would like to hear any comments or questions, email below. I'd love to hear from you and hear what you think about my site.

---

---
© Webmaster: Robin Cramer 1997