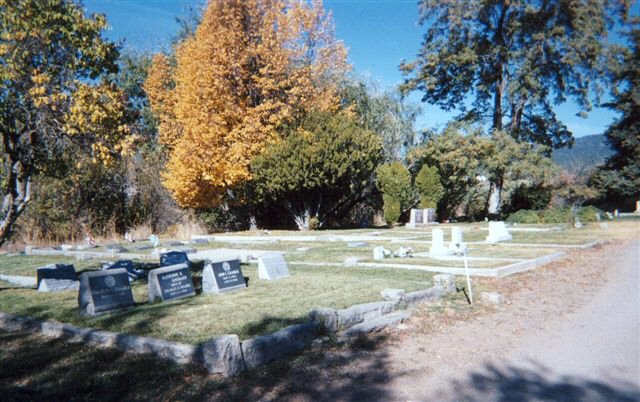 Lassen Cemetery
The Lassen Cemetery , located on Chestnut Street , in Susanville, is the second largest cemetery in Lassen County . It originally was to be located on Richmond Road , but that property was used to establish the Roosevelt Elementary School .
The cemetery was established in 1919, and its first occupant is that of Isaac Coulthurst, one of the oldest settlers of Honey Lake Valley who had made this area home since 1857. His wife, Mary Jane Duvall, is also buried there, and they were the first couple to be married in the Valley. This cemetery reflects the many changes that had occurred. While some members of old pioneer families are buried there, many of the families that arrived to work in lumber mills of Lassen Lumber & Box Co., Fruit Growers Supply Co. and Red River Lumber Co., are buried there, as well as the Basque families who arrived in the early 1900s. Then, of course, there is the most unusual marker for one Vlaad Eifilnar b. 1551 d. 1662. That is correct, the dates and the name are not typographical errors!
The compiler (Tim I. Purdy) of this headstone enumeration originally conducted an initial survey in the fall of 1978. This current compilation was done in the fall of 2006, and reflects a number changes. Not only have there been 434 internments since then, but some temporary markers have since faded and are obliterated. On the other hand, nearly 100 graves that did not have any marker whatsoever from the 1930s through the 1960s, have since been placed since the 1978 survey.
---
---
A
Abbott, Christina DeAnn b. 14 Nov. 1971 d. 28 June 1974
Abbott, Fay b. 29 May 1895 d. 13 Feb. 1992
Abbott, Frank b. 21 June 1892 d. 17 Feb. 1981
Abbott, Keith Allen b. 21 April 1960 d. 24 Oct. 1999
Accomazzo, Luigi b. 4 Aug. 1882 d. 13 April 1934 - native of Italy
Acord , Frances E. b. 14 Sept. 1898 d. 16 Jan. 1978
Acord, John C. b. 15 May 1888 d. 13 Jan. 1927
Acord, Leahman b. 6 Oct. 1911 d. 11 Oct. 1979
Acord, Thomas J. b. 31 July 1896 d. 22 August 1949
Adams , Charles L. b. 1870 d. 1949
Adams , Grace C. b. 1872 d. 1966
Adams , John Quincy b. 1902 d. 1947
Adams , Martin H. b. 1880 d. 1947
Adams , Orlando b. 1870 d. 1934
Adktins, Hed b. 9 Jan. 1866 d. 7 Mar. 1951
Ainsworth, Bobby James b. 14 Oct. 1928 d. 23 Oct. 1928
Alcat, Jean b. 29 Dec. 1911 d. 7 July 1955
Aldrich, Gilbert E. b. 26 Mar. 1899 d. 15 July 1996
Aldrich, Leota E. b. 23 Sept. 1908 d. 2 May 1984
Alexander, Eleanor H. b. 29 Mar. 1893 d. 20 Mar. 1953
Allen, Ada b. 1909 d. 1943
Allen, Gaylord b. 1921 d. 1923
Allen, James Henry b. 1898 d. 1943
Allen, Johnnie L. b. 1949 d. 1949
Allen, Marion F. b. 22 Jan. 1900 d. 27 Mar. 1964
Allen, Pauline b. 26 April 1928 d. 14 Feb. 1991
Allen, Richard K. b. 17 Dec. 1953 d. 9 July 2001
Allen, Ronald D. b. 1952 d. 1952
Allen, Stephen G. b. 1951 d. 1951
Alonzo, Casmiro d. 21 Mar. 1948 - 60Y 10M 25D
Alosi, Frank Livoti b. 12 Nov. 1925 d. 16 July 1989
Alvarez, Marcos b. 1891 d. 1952
Alvarez, Mary b. 1891 d. 1952
Alway, Gordon b. 1881 d. 1959
Alway, Josephine Olive b. 1881 d. 1946
Amias, Frank b. 1897 d. 1951
Amistani, Lina b. 1891 d. 1934
Anderson , Ada M. b. 25 Aug. 1877 d. 7 Mar. 1947
Anderson , Andy b. 1888 d. 1932 - "The Barber"
Anderson , August b. 1859 d. 1940
Anderson , Beulah E. b. 29 April 1900 d. 27 June 1977
Anderson , Charles A. b. 1874 d. 1928
Anderson , Charles Ira b. 7 Sept. 1890 d. 9 April 1955
Anderson , Charlotte b. 1859 d. 1951
Anderson , Edna T. b. 1877 d. 1936
Anderson, Elmer W. b. 1900 d. 1946
Anderson , Harmon C. b. 9 Aug. 1896 d. 19 June 1953
Anderson , Mart V. b. 16 July 1908 d. 28 Jan. 1957
Anderson , Oscar D. b. 10 April 1886 d. 20 Sept. 1967
Anderson , Sarah Ethel b. 1903 d. 1993
Anderson , Violet b. 30 Mar. 1901 d. 30 Jan. 1990
Anderson , Violet L. b. 14 Feb. 1910 d. 22 Mar. 2001
Anderson , Walter H. b. 7 April 1876 d. 22 Mar. 1952
Apcecechea, Felix b. 1894 d. 1927
Arcimi, Pete b. 1899 d. 1952
Arena, Lorenzito b. 1 Jan. 1939 d. 17 Aug. 1944
Ariaga, Thelma Jean b. 7 April 1932 d. 11 June 1932
Arias, Inez b. 1896 d. 1997
Arias, Joseph b. 1895 d. 1938
Arnett, Agnes M. b. 1881 d. 1966
Arnett, Andrew W. b. 1876 d. 1942
Arnold , Almida b. 1902 d. 1988
Arnold , Stanley b. 1903 d. 1984
Arregui, Eduardo P. b. 30 June 1882 d. 22 Oct. 1954
Arretche, Jeanne b. 1910 d. 1952
Arretche, Pete b. 1910 d. 1968
Arriaga, Juan b. 1887 d. 1955
Asla, Fernando b. 30 May 1873 d. 21 Aug. 1926
Atkins, Bertha B. b. 1874 d. 1955
Atkins, Charles d. 3 Sept. 1967 - age 50 years - no marker
Auger, Joseph P. b. 4 Oct. 1886 d. 8 Aug. 1968
Auger, Marie b. 21 Dec. 1891 d. 17 Feb. 1964
Austin, Stephen Leroy - 21 September 1957 - son of M&J
Avent, Violet Grace b. 6 Sept. 1921 d. 10 May 1929
Avila , Delfina R. b. 24 Dec. 1912 d. 14 June 1959
Avila , Henry Raul b. 14 Oct. 1940 d. 14 June 1959
Avila , Jose Loreto b. 27 April 1902 d. 20 Sept. 1981
Avila , Loreto Alex Jr. b. 17 Sept. 1936 d. 6 Aug. 1998
Avila , Maria Ellena b. 24 Nov. 1943 d. 22 June 1944
Avila , Maxemino Jesus b. 27 Dec. 1953 d. 14 June 1959
Axley, Kin Radford b. 7 April 1892 d. 22 Aug. 1948
Ayers, Jewell May b. 1903 d. 1946
Azaguierre, Gregoria "Charlie" b. 28 Nov. 1887 d. 23 Aug. 1960

B
Bailey, Clay T. b. 26 Dec. 1912 d. 25 Dec. 1943
Bailey, Grace M. b. 5 Feb. 1893 d. 25 May 1979
Bailey, Quilian C. b. 5 Nov. 1883 d. 22 Oct. 1954
Bailey, Viola Self b. 28 Mar. 1922 d. 1 May 1948
Baker, Alice M. b. 1912 d. 2000
Baker, Camilla Moody b. 5 Feb. 1903 d. 3 March 2000
Baker, Forest William b. 26 Dec. 1942 d. 5 Jan. 1997
Baker, Joseph V. b. 9 Aug. 1879 d. 27 July 1956
Baker, Kate b. 23 Jan. 1884 d. 28 June 1974
Baker, Leland R. b. 1910 d. 1999
Ballard, James b. 1884 d. 1935
Ballard, Mary E. b. 4 April 1871 d. 2 Oct. 1961
Banayat, David S. b. 29 Jan. 1942 d. 10 Feb. 1942
Bangham, Alyce Long b. 17 Jan. 1917 d. 16 Feb. 2001
Bangham, Fred True b. 1 Sept. 1915 d. 26 Sept. 1991
Bangham, Josephine T. b. 1872 d. 1959
Bannerman, Dorothy L. b. 1896 d. 1940
Bantley, Ada E. b. 21 Mar. 1879 d. 6 Nov. 1968
Bantley, George A. 5 April 1912 d. 4 Sept. 1984
Bantley, Marc b. 29 Jan. 1870 d. 28 Feb. 1927
Baralis, Anna Maria b. 1886 d. 3 Dec. 1927 - native of Acceglio Prov., Cuneo , Italy
Baralis, Stephano b. 29 July 1871 d. 7 April 1950
Barazar, Joseph G. b. 1 Sept. 1900 d. 7 June 1979
Barazar, Maria I. b. 7 Aug. 1905 d. 2 July 1987
Barba, Angelita b. 10 June 1929 d. 1 Oct. 1930
Barba, John b. 20 Sept. 1940 d. 20 Sept. 1940
Barba, Luis A. b. 29 Feb. 1882 d, 8 Oct. 1950
Barbee, Beverly F. b. 4 Jan. 1873 d. 27 July 1957
Barbee, Ella E. b. 22 Aug. 1872 d. 1 Oct. 1958
Barham, Myron E. b. 21 Oct. 1921 d. 3 Oct. 1969
Barries , Anita M. b. 1906 d. 1943 - native of Mexico
Barry, Ardis b. 1924 d. 1970
Barry, Mabel C. b. 1885 d. 1970
Barry, Mardis b. 1890 d. 1944
Barry, Mary Etta Hardin b. 1865 d. 1944
Bartlett , Lillie D. b. 1866 d. 1945
Basarich, Milos b. 6 Sept. 1892 d. 3 Jan. 1979
Bass, Mabel Bennett b. 1889 d. 1953
Basso, Eleanor J. 26 Mar. 1919 d. 16 Sept. 2001
Basso, Joseph J. b. 3 Aug. 1917 d. 1 Feb. 2004
Baughman, Walter Lee b. 30 May 1899 d. 22 Dec. 1958
Baxter, Dennis B. b. 26 June 1889 d. 12 April 1966 - native of Tennessee
Baxter, Harry b. 28 Feb. 1920 d. 23 May 1945
Baxter, Jerry b. 16 Aug. 1947 d. 27 Mar. 1969
Baxter, Nellie May b. 7 July 1916 d. 23 Mar. 1994
Beam, James W. d. 21 Dec. 1971 age 62 years - no marker
Beandell, Samuel b. 25 Sept. 1881 d. 3 July 1960
Beard, Ben b. 26 Feb. 1890 d. 21 June 1957
Beard, Della b. 21 Feb. 1892 d. 23 Sept. 1975
Beasley, Lynn Steven b. 18 May 1949 d. 19 May 1949 - no marker
Beck, Lawrence b. 9 July 1981 d. 4 Jan. 1960
Becker, Edward W. b. 1906 d. 1978
Becker, Elvia L. b. 6 April 1910 d. 21 June 1957
Becker, Herman H. b. 1882 d. 1940
Becker, Keith V. b. 17 Feb. 1930 d. 30 Jan. 1948
Becker , Leon "Arminal" b. 17 April 1900 d. 3 Nov. 1957
Becker, Valentine Henry b. 14 Feb. 1904 d. 13 April 1990
Becker, Vernon b. 10 Jan. 1910 d. 14 Dec. 1974
Becker, Vesta White b. 9 Sept. 1903 d. 10 July 1961
Beckett, Cecil E. b. 31 July 1929 d. 4 Feb. 1999
Beckett, Florence L. b. 26 Jan. 1900 d. 7 July 1987
Beckett, James L. b. 29 Dec. 1916 d. 15 Dec. 1977
Beckett, Judy A. b. 18 Sept. 1940 d.
Beckett, Michael E. b. 14 April 1954 d. 30 April 1954
Beebe, Beverly Ann - 1939-
Beebe, Frank B. b. 1886 d. 1950
Beebe, Frank J. b. 1 Feb. 1900 d. 16 Feb. 1957
Beebe, Howard L. d. 20 May 1969 age 78 years - no marker
Beebe, Irvin L. b. 1908 d. 1956
Beebe, Olivia M. b. 1876 d. 1961
Begley, Stephen O. b. 1879 d. 1922
Bell , Bonnie Rae b. 1930 d. 1931
Bell , Gertha May b. 1882 d. 1932
Bell , Mickey b. 6 Aug. 1909 d. 9 Jan. 1997
Bell , Truman b. 19 Feb. 1907 d. 31 Jan. 1994
Benaderet, Robert J. Jr. - b. 29 Jan. 1927 d. 26 Nov. 1953
Bengoa, Linda Lee b. 27 Sept. 1949 d. 27 Sept. 1949
Benner, Sidney Jr. b. 1938 d. 1939
Bennett, Elmer J. b. 3 March 1892 d. 5 Sept. 1960
Bennett, infant - 6 July 1924 -
Bennett, Rose b. 22 June 1894 d. 27 March 1972
Benoist, J.A. "Gus" b. 1876 d. 1956
Benoist, John I. b. 12 Mar. 1892 d. 24 Dec. 1958
Benoist, Mary F. b. 11 June 1897 d. 11 Oct. 1994
Benoist, Nellie May b. 1883 d. 1960
Berg, Kerry Scott b. 1961 d. 1961
Bergleen, E.J. b. 1 July 1881 d. 11 May 1927
Berglund, Anna V. b. 20 Jan. 189 d. 11 Oct. 1972
Berglund, Karl J. b. 1886 d. 1936
Berry , Myrtle E. b. 1917 d. 1941
Bertoli, Dale Carrol b. 29 Dec. 1925 d. 12 June 1945
Bertoli , Frances L. b. 12 Oct. 1902 d. 30 June 1952
Bertoluzza, Lino b. 25 April 1897 d. 22 May 1950
Bessonart, Bertrand b. 12 July 1895 d. 5 May 1960
Beterbide, John b. 15 Jan. 1887 d. 3 Jan. 1966
Beterbide, Julius A. b. 10 Mar. 1917 d. 14 July 1961
Beterbide, Marie b. 2 Feb. 1894 d. 2 July 1983
Beterbide, Paul H. b. 16 May 1920 d. 3 Feb. 1969
Bickerdike, Charles E. b. 1858 d. 1937
Bigelow, Annie L. b. 1863 d. 1927
Bigelow, George L. b. 28 Nov. 1896 d. 14 July 1962
Bigelow, Orrin R. b. 1870 d. 1952
Bilbao , Christine b. 1900 d. 1952
Bill, Burtis U. b. 11 Feb. 1870 d. 17 Dec. 1938
Bill, Charles B. b. 6 Dec. 1908 d. 28 Sept. 1984
Bill, Eugene N. b. 23 Sept. 1919 d. 11 Mar. 1938
Bill, George H. b. 3 April 1921 d. 9 April 2005
Bill, Odie M. b. 29 Aug. 1883 d. 30 Aug. 1956
Bishop, Augustus H. b. 1877 d. 1940
Black, Bowie N. b. 30 Sept. 1890 d. 21 Jan. 1930
Black, Hushel Garland b. 27 July 1913 d. 24 July 1951
Blackburn , George W. b. 15 Jan. 1900 d. 20 Jan. 1960
Blackmer, Ethel A. b. 15 Jan. 1897 d. 26 Feb. 1974
Blackmer, Ethel Warren d. 28 Dec. 1924 age 4 days
Blackmer, William W. b. 16 Jan. 1883 d. 26 September 1975
Blair, Hubert b. 1893 d. 1957
Blair, Jack W. b. 1895 d. 1937
Blair, Stanny A. b. 25 Feb. 1860 d. 25 May 1935
Blakeman, Bonnie Thelma Louise b. 1909 d. 1952
Blayney, Isaac V. b. 1865 d. 1933
Blayney, Nora Ann b. 1868 d. 1936
Blosser, Ernest A. b. 1885 d. 1958
Blosser, Gladys Huhtala b. 1897 d. 1992
Boatright, Phoebe E. b. 1864 d. 1939
Boatright, T.L. b. 1863 d. 1927
Boersma, Ben b. 1885 d. 1965
Boersma, Grace b. 1864 d. 1952
Boersma, Henry b. 1894 d. 1974
Boersma, Jimmy b. 1899 d. 1960
Boersma, Otto J. b. 1886 d. 1966
Boersma, Sophie b. 1890 d. 1966
Boggs, Margarette M. b. 28 Mar. 1897 d. 23 Nov. 1949
Bolander, Andrew E. b. 1899 d. 1933
Bolt, Linda Sue b. 1960 d. 1961
Bolton , Diana - 22 September 1960 - no marker
Booker, Helen B. b. 25 Aug. 1928 d. 20 Sept. 1953
Borchers, Henry F. b. 19 Dec. 1892 d. 4 Nov. 1922 - native of Minnesota
Borden, Arthur Lee Jr. - b. 1952 d. 1953
Borden, Bonnie L. b. 31 Aug. 1913 d. 4 Sept. 1994
Borden, Carroll E. Jr. b. 29 July 1908 d. 16 May 1988
Borden, George M. b. 12 June 1935 d. 13 Dec. 1951
Borghi, Alfredo b. 1881 d. 1957
Borghi, Emelia b. 1894 d. 1953
Born, Charles David (Baby) - 12 June 1937 -
Boshoff, Jack N. b. 4 August 1895 d. 14 Mar. 1941
Bottini, Antonio b. 1887 d. 1927
Bouchard, E.G. b. 1882 d. 1934
Boulle, Armand H. b. 1908 d. 1953
Bourdet, Marie b. 23 Dec. 1900 d. 10 Feb. 1974
Boustra, Otto b. 25 March 1869 d. 25 May 1967
Bowen, Betty Jean b. 26 May 1935 d. 6 Dec. 1935
Bowen, Pearl A. b. 6 Feb. 1914 d. 20 July 1923
Bowling, Ray H. b. 17 Jan. 1894 d. 15 Dec. 1978
Boyd, Winstead J. - 10 May 1937 -
Bradamila, Antonio b. 8 Feb. 1894 d. 3 Dec. 1929 - native of Italy
Bradbury, Francis L. b. 4 May 1903 d. 28 Feb. 1956
Bradford , Grace W. b. 1885 d. 1947
Bradley, Marilla M. b. 1905 d. 1946
Brady, John b. 1874 d. 1929
Brashear, William E. b. 18 April 1879 d. 29 June 1950
Bray, Kenneth Oscar b. 1891 d. 1960
Breeden, Carl b. 21 March 1910 d. 21 April 1934 - son of L.
Breeden, Louis b. 11 April 1881 d. 2 Jan. 1936
Breeden, Maude b. 25 Dec. 1886 d. 21 Nov. 1976
Breeden, Oral b. 13 April 1907 d. 28 April 1978
Breitwieser, Albert G. b. 1867 d. 1938
Breitwieser, Mary D. b. 1867 d. 1935
Breitwieser, Michael b. 24 Mar. 1963 d. 17 May 1971
Bresolin, Delores - 28 November 1933 -
Bresolin, Eugenio b. 1893 d. 1954
Bresolin, Franceska b. 1903 d. 1993
Bresolin, Ido S. b. 1931 d. 1956
Brocco, Audria b. 1915 d. 1945
Brocco, Lou Ann b. 1942 d. 1942
Brockman, John F. b. 15 Sept. 1872 d. 16 Aug. 1946
Brockman, Lillie H. b. 3 March 1880 d. 8 June 1933
Brodie, Robert b. 1881 d. 1935
Brooks, Maud E. b. 8 April 1890 d. 23 April 1956
Brouillard, Everrett H. b. 1888 d. 1935
Brouillard, Mary B. b. 1893 d. 1931
Brown, Albert C. b. 2 April 1906 d. 12 Nov. 1980
Brown, Benjamin F. b. 1883
Brown, Charles N. b. 1855 d. 1922
Brown, Curtis Michael - 11 September 1957 - no marker
Brown, Elwin Eugene b. 25 June 1928 d. 20 Sept. 1998
Brown, Eugene Grant b. 20 Feb. 1900 d. 13 Dec. 1949
Brown, Fred E. b. 1878 d. 1925
Brown, Harry J. b. 1 June 1914 d. 15 Feb. 1982
Brown, John b. 27 Oct. 1910 d. 5 May 1957
Brown, Lenore Ann b. 23 Nov. 1920 d. 3 Sept. 1991
Brown, Louis Curt - 11 September 1957 - no marker
Brown, Lucille D. b. 8 Jan. 1917 d. 27 April 1954
Brown, Maudie E. b. 1895 d. 1959
Brown, Ollie C. b. 1873 d. 1948
Brown, Rachel S. b. 1871 d. 1949
Brown, Randolph b. 10 Oct. 1926 d. 19 July 1948
Brown, Robert I. b. 1932 d. 1946
Brown, Ruth O. b. 21 Dec. 1901 d. 30 Jan. 1978
Brown, Teddy - 1951 -
Brown, Terry L. b. 2 Jan. 1946 d. 24 Dec. 1999
Browne, Martha D. "Jane" b. 3 Jan. 1917 d. 8 June 1979
Browne, Mary F. b. 1873 d. 1942
Bruso, Alvin Lewis b. 1 April 1899 d. 4 June 1951
Bryant, Eleanor Louise b. 19 Feb. 1893 d. 13 Oct. 1952
Buckles, Llewellah Price b. 12 Sept. 1895 d. 29 May 1979
Buckles, Maynard Robert b. 28 April 1883 d. 8 June 1978
Buffham, Frank J. b. 1885 d. 1943
Buford, Robert C. b. 19 Oct. 1912 d. 7 Sept. 1940
Bundy, Harvey A. b. 1881 d. 1939
Burbidge, Henry E. b. 1890 d. 1944
Burda, John E. b. 1891 d. 1955
Burgess, Peter b. 1 April 1858 d. 26 Aug. 1923
Burk, Infant - 26 April 1952 -
Burley, Louis N. b. 1867 d. 1931
Burnett, Frank Tuttle b. 7 Aug. 1881 d. 3 Sept. 1973
Burnett, Junia E. McKinley b. 14 Jan. 1882 d. 6 Aug. 1953
Burnett, Margaret Heron b. 19 June 1901 d. 10 Nov. 1954
Burr, Clark L. b. 13 Jan. 1911 d. 17 April 1994
Burr, Emma C. b. 1877 d. 1931
Burr, Ferril O. b. 13 Oct. 1916 d. 29 Nov. 1986
Burr, Rosalie A b. 12 March 1916 d. 22 Oct. 1992
Burr, William C. b. 2 Nov. 1876 d. 11 July 1941
Busby, James Garland b. 21 Jan. 1912 d. 16 Feb. 1955
Busby, Jane b. 1889 d. 1959
Busby, Paul (baby - 1952 -
Busby, Ralph B. b. 1886 d. 1949
Busby, Thomas b. 1885 d. 1952
Bussey, Charles M. b. 16 Mar. 1878 d. 22 Mar. 1965
Bussey, Louis M. b. 28 Feb. 1904 d. 15 Dec. 1951
Bussey, Missie Baker b. 28 Sept. 1884 d. 18 March 1965
Bussey, Thurman b. 1911 d. 1931
Buzzard, Fred b. 1873 d. 1939
Byrne, William J. b. 21 Feb. 1882 d. 19 Feb. 1959

C
Cachero, John C. b. 1904 d. 1937
Callaghan, Thomas J. b. 18 Sept. 1858 d. 12 Mar. 1930
Callier, Edward K. b. 28 October 1897 d. 2 Feb. 1950
Camacho, Stevan J. b. 24 June 1955 d. 3 Jan. 1989
Campidonica, Margaret b. 17 Aug. 1911 d. 27 May 2005
Cannon, Earl T. b. 1895 d. 1934
Cannon, Earl Vinton "Pete" b. 9 Oct. 1934 d. 11 Jan. 2000
Canova, Clemente b. 1892 d. 1941
Canter, Connie b. 8 April 1944 d. 29 Jan. 1945
Cantin, Edward J. b. 29 June 1892 d. 20 Sept. 1943
Cantin, Jennie C. b. 1 May 1897 d. 11 Sept. 1951
Cargile, Chester D. b. 13 Dec. 1910 d. 19 Nov. 1947
Carlomagno, Catherine C. b. 3 Nov. 1899 d. 26 Nov. 1989
Carlomagno, Catherine Elin b. 14 Feb. 1949 d. 9 Jan. 1953
Carlomagno, Ferne C. b. 27 Jan. 1919 d. 22 Nov. 1992
Carlomagno, S.R. Carl b. 27 Jan. 1916 d. 29 June 1997
Carlson, Anna M. b. 1 May 1867 d. 1 Sept. 1939
Carpenter, Irene James b. 18 Jan. 1904 d. 13 April 1952
Carpenter, Lena b. 23 May 1903 d. 9 May 1936
Carpenter, Thomas W. b. 30 April 1875 d. 26 Mar. 1961
Carr, Alice b. 1882 d. 1952
Carr, Francis b. 1888 d. 1935
Carraro, Armando b. 1930 d. 2002
Carraro, Elmer b. 1901 d. 1953
Carraro, Ida b. 1900 d. 1975
Carraro, Juanita b. 1935 d. 2004
Carroll, Bertha J. b. 1873 d. 1942
Carroll, Mike F. b. 1864 d. 1938
Carson , David Eugene b. 1949 d. 1950
Carson , Mary E. b. 26 April 1902
Carson , Ricky James b. 20 Mar. 1962 d. 19 Jan. 1965
Carson , William R. b. 12 January 1883 d. 10 March 1955
Carver, Ami Eli "Doc" - b. 9 June 1898 d. 2 Feb. 1948
Cary , Howard Clinton b. 3 Feb. 1896 d. 24 June 1961
Cary , Joseph b. 1885 d. 1961
Cary , Kitty E. b. 30 May 1892 d. 24 April 1980
Case, Baby Boy b. 1962 d. 1962
Case, David b. 1961 d. 1961
Cash, Beverly K. b. 1911 d.
Cash, Leslie M. b. 1911 d. 1959
Casillas, Guadelupe b. 10 Sept. 1905 d. 19 Feb. 1994
Casillas, Roberto b. 15 Mar. 1905 d. 20 Dec. 1960
Cassaday, Norman "Casey" b. 31 Dec. 1880 d. 27 May 1981
Cassiday, Richard L. b. 11 April 1932 d. 1 June 1933
Casteneleas, Agnes C. b. 29 April 1893 d. 29 Mar. 1970
Casteneleas, Richard b. 7 Feb. 1892 d. 25 Dec. 1972
Cayocca, Arnold b. 14 Feb. 1869 d. 5 May 1928 - native of Switzerland
Cazzaniga, Alfred b. 1902 d. 1960
Chamalbide, Jean d. 25 August 1975 37 years - no marker
Chance, Hattie E. b. 1 July 1877 d. 27 Aug. 1950
Chance, William O. b. 25 Aug. 1879 d. 12 April 1962
Chance, Wilson Edgar b. 27 Mar. 1915 d. 1 Jan. 1979
Chappell, Donna Jane b. Feb. 1935 d. June 1954
Chappell, Linda Denise b. 19 Jan. 1957 d. 23 Jan. 1957 - no marker
Chase, Ethel Frances b. 9 Mar. 1920 d. 25 Mar. 1928
Chavez, Elijio R. b. 1 Dec. 1889 d. 16 Mar. 1953
Chavez, Eloy b. 12 Oct. 1903 d. 3 Dec. 1962
Chavez, Isaac M. b. 1888 d. 1969
Chavez, Jesusita b. 1890 d. 19 Dec. 1932
Chavez, Julia A. b. 1884 d. 1964
Chiartano, John b. 20 Oct. 1905 d. 20 Nov. 1944
Chittock, Albert G. b. 1874 d. 1946
Chittock, Eugene B. 1 Jan. 1942 d. 11 April 1999
Chittock, Lavina Baxter b. 16 Aug. 1918 d. 14 April 2006
Chittock, Robin Ann -1962-
Chittock, Roland "Bud" b. 14 Oct. 1910 d. 12 Jan. 1986
Chittock, Ruth G. b. 1885 d. 1965
Christensen, Robert M. b. 24 Nov. 1926 d. 18 Aug. 1949
Church, Audrey D. b. 31 Dec. 1930 d. 26 Feb. 1931
Church, Darlene L. b. 3 May 1932 d. 17 Feb. 1971
Church, Joaquin O. b. 21 Oct. 1893 d. 22 April 1946
Church, Minnie M. b. 3 Jan. 1895 d. 21 Aug. 1984
Clabots, Frank b. 7 April 1871 d. 4 Nov. 1947
Clabots, Lois E. b. 16 July 1878 d. 14 June 1946
Clark , Della E. b. 4 Sept. 1881 d. 4 May 1951
Clark , Harry L. b. 6 Jan. 1873 d. 4 Oct. 1951
Clark , LaVerde Woodward b. 26 May 1913 d. 19 Mar. 2004
Clark , Lulu Mae b. 10 Nov. 1911 d. 30 Dec. 1971
Clark , William J. b. 27 July 1890 d. 7 Aug. 1959
Clark , William Thad b. 18 Sept. 1961 d. 17 Aug. 1980
Clarke, Belle Rust b. 6 Oct. 1856 d. 13 May 1937
Cleaves, Fred L. b. 1867 d. 1943
Clement, Aura b. 24 Feb. 1878 d. 18 Mar. 1963
Clement, Taylor b. 5 Feb. 1879 d. 21 Feb. 1960
Cloake, Mother b. 1854 d. 1931
Clotfelter, Hugh b. 3 Mar. 1896 d. 8 May 1952
Cloud, Jo Lenae b. 3 June 1957 d. 6 Dec. 1959
Clute, Joseph B. b. 20 Mar. 1875 d. 30 Aug. 1957
Coen, James b. 4 Sept. 1854 d. 3 Jan. 1944
Coffin, Arietta E. b. 1851 d. 1929
Coffin, Erle B. 1884 d. 1970
Coffin, Franky b. 1889 d. 1983
Coffin, Harvey R. b. 1854 d. 1936
Coffin, Leslie D. b. 1944 d. 1964
Coffin, Lester D. b. 1910 d. 1968
Coghill, Alva Cecil b. 1909 d. 2002
Coghill, Glenn M. "Monty" b. 11 Oct. 1937 d. 23 Nov. 1952
Coghill, Leslie Edna b. 1913 d.
Coleman, Carolyn Jean b. 8 April 1941 d. 13 May 1955
Coleman, James Emmett b. 20 Feb. 1905 d. 15 June 1972
Collier, Jessie H. b. 1883 d. 1952
Collier, Joseph R. b. 1879 d. 1948
Colwell, Gilford O. b. 1877 d. 1947
Compton , Claude F. b. 1876 d. 1963
Compton , James William b. 24 May 1913 d. 8 June 1996
Compton , Nellie G. b. 1886 d. 1973
Conklin, Ada B. b. 1 Sept. 1924 d. 18 July 1928
Conklin, Albert J. no date
Conklin, Arnet A. b. 21 April 1892 d. 29 July 1966
Conlan, John - b. 14 Feb. 1889 d. 3 April 1978
Conley, Mary V. b. 1906 d. 1956
Conn , Minerva P. b. 1881 d. 1940
Connolly Gladys I. b. 12 Aug. 1915 d. 31 Aug. 1995
Connolly, James A. b. 28 March 1913 d. 2 March 1975
Conrad, Mary b. 1891 d. 1975
Conrad, Ralph F. b. 1886 d. 1965
Conway , John D. b. 1908 d. 1966
Conway , Mollie A. b. 1870 d. 1957
Cook, Charles b. 1874 d. 1938
Cook, John "Jack" Warren b. 23 Oct. 1878 d. 14 Nov. 1957
Cook, Rebeka b. 19 Oct. 1847 d. 17 July 1928
Cook, Robert M. b. 1874 d. 1933
Coonie, Thad [Coen] b. 1889 d. 1938
Cooper, Annie E. b. 1881 d. 1939
Cooper, Cyrinthia b. 1854 d. 1934
Cooper, Silas C. b. 1882 d. 1964
Corder, Ted d. 1983
Corder, Virginia I. b. 1913 d. 1932
Core, Hannah Grayson b. 23 Dec. 1887 d. 6 April 1959
Couch, Kenneth Eugene b. 11 Dec. 1959 d. 17 May 1978
Coulthurst, Henry T. b. 1873 d. 1941
Coulthurst, Isaac b. 25 Dec. 1823 d. 7 Feb. 1919
Coulthurst, Mary Jane b. 9 Feb. 1834 d. 13 June 1928
Cox, Amanda F. b. 1847 d. 1931
Cox, Bertie C. b. 1 Mar. 1886 d. 18 June 1973
Cox, Clarice b. 18 Feb. 1888 d. 20 Feb. 1966
Cox, James M. 17 Oct. 1883 d. 6 Mar. 1973
Cox, Jay A. b. 1879 d. 1939
Cox, Neil Gordon - 15 March 1949-
Cox, Rosie E. b. 8 Sept. 1890 d. 29 Jan. 1957
Coxen, Baby Girl - 27 February 1956 -
Crain, David Glenn - 2 September 1946-
Craine, Mabel Jeanette b. 13 Oct. 1979 b. 3 Feb. 1949
Craine, Thomas Arthur b. 19 May 1864 d. 23 Mar. 1941
Cramer, Betty G. b. 9 Jan. 1928 d. 3 Jan. 1997
Cramer, Charles C. b. 1877 d. 1930
Cramer, Clifton C. b. 4 July 1919 d. 13 Aug. 2001
Cramer, Fred J. b. 1871 d. 1943
Cramer, John C. b. 6 May 1905 d. 19 Jan. 1966
Crane, Thomas C. b. 21 June 1950 d. 5 Oct. 1967
Crockett, Fitz C. b. 1872 d. 1934
Crow, Earl D. b. 1 Jan. 1903 d. 21 Mar. 1959
Crowley , Rose M. b. 1850 d. 1935
Cunanan, Fred b. 1867 d. 1972
Cunanan, Minnie A. b. 1897 d.
Cunial, Emilio b. 12 Mar. 1900 d. 8 April 1960
Cunial, Gioconda b. 12 Nov. 1908 d. 30 May 1957
Curtis, Elaine H. b. 8 Oct. 1917 d. 9 Dec. 1966
Cuscaden, Mary Belle b. 21 April 1873 d. 27 Nov. 1948

D
Dakin, Clarence E. b. 10 April 1868 d. 30 Aug. 1950
Dakin, Elsie M. b. 17 May 1874 d. 12 Feb. 1952
Dakin, Loren Eugene d. 19 July 1933 , age three hours
Dal Broi, Carol - 7 July 1952 -
Dal Favero, Giuseppe b. 1892 d. 1973
Dal Favero, Inez d. 11 Feb. 1997
Dal Favero, Lucia b. 1900 d.. 1933
Daly, Bert b. 1871 d. 1941
Danielson, David J. b. 14 Feb. 1893 d. 22 Sept. 1963
Danielson, Margaret J. b. 28 April 1893 d. 2 July 1964
Daugherty, James b. 15 Dec. 1907 d. 25 July 1947
Daugherty, Lena b. 1885 d. 1958
Davey, Robert G. b. 1890 d. 1931
David, Charles - 12 June 1937 -
David, Reta Morris b. 24 Oct. 1938 d. 3 Oct. 1988
Davidson, Davina b. 12 April 1889 d. 18 July 1966
Davidson, Frank b. 17 Nov. 1892 d. 4 July 1984
Davidson, Laura b. 2 Aug. 1920 d. 27 Aug. 1938
Davidson, William b. 3 Oct. 1888 d. 21 April 1931
Davies, Edward H. - no date - no marker
Davis , Larry Melvin b. 28 Mar. 1947 d. 12 June 2006
Dawson , Matilda b. 1871 d. 1936
Day, Annie Jones b. 5 Jan. 1888 d. 29 May 1969
Day, Betty Lorraine - d. 1 November 1962 , age 11 days - no marker
Day, Charles T. b. 1884 d. 1956
Deal, Clyde S. b. 27 Jan. 1899 d. 23 Mar. 1976
Dean, Roxie b. 1883 d. 1947
DeBlois, Gilbert "Bill" b. 1885 d. 1938
DeForest, Charles Junior b. 1919 d. 1938
DeForest, Charles V. b. 1882 d. 1955
DeForest, Christine V. b. 1889 d. 1941
DeForest, Jesse L. b. 16 Dec. 1918 d. 3 August 1967
DeForest, Mary Jeanette b. 27 Nov. 1922 d. 3 Aug. 1967
DeHaven, Cap b. 1852 d. 1929
Del Carlo, Leo b. 1936 d. 1940
Delgado, Kathryn Beth - 19 April 1955 -
Delgado, Maude Sanchez b. 8 July 1914 d. 25 Mar. 1966
Delgado, Refugio b. 18 Sept. 1908 d. 11 June 1998
Delgado, Ruth Bruington b. 4 June 1893 d. 28 Sept. 1950
Dellinger, Dora Turner b. 1896 d. 1976
Delmas, Minnie B. b. 1884 d. 1951
Delorme, Rosario A. b. 13 Feb. 1929 d. 4 Jan. 1959
DePaoli, Melvin John b. 1924 d. 1926
DeVose , Alberta b. 4 Nov. 1899 d. 15 July 1998
DeVose, Harold C. b. 13 Sept. 1920 d. 2 Nov. 1931
DeVose, Helen J. b. 19 May 1937 d. 5 Feb. 1939
DeVose, Raymond C. b. 1894 d. 1978
Diaz, Annette G. b. 29 Mar. 1924 d. 17 Jan. 1992
Diaz, Benito J. b. 6 Sept. 1920 d. 8 Mar. 2004
Diaz, Felix b. 20 Feb. 1879 d. 18 Sept. 1972
Diaz, Felix F. b. 2 Jan. 1919 d. 25 Mar. 1990
Diaz, Jermana b. 17 Jan. 1889 d. 22 April 1958
Dickerson, James M. b. 1910 d. 1944
Dillon, Addean b. 4 Oct. 1912 d. 16 Jan. 1954
Dillon, Rev. R.A. b. 1 June 1914 d.
Dittmar, Betty M. b. 15 Aug. 1871 d. 25 April 1958
Dixon , Andrew L. b. 18 Oct. 1897 d. 6 Nov. 1966
Dixon , Ira Lee b. 17 Oct. 1920 d. 17 Nov. 1944
Dixon , Kerrand Dale b. 2 Sept. 1929 d. 10 Aug. 1979
Dixon , Myrtle M. b. 25 Sept. 1904 d. 22 Oct. 1964
Doan, Albert N. b. 18 July 1892 d. 14 May 1968
Doan, Baby - 12 June 1945 -
Doan, James A. b. 1925 d. 1956
Doan, Pauline b. 25 Feb. 1906 d. 24 Mar. 1967
Doherty, Thomas - no dates
Donaldson, Ella E. b. 3 July 1856 d. 9 Dec. 1943
Donaldson, George L. "Blackie" b. 22 Nov. 1886 d. 1 June 1975 - native of Minnesota
Donaldson, William E. b. 4 Jan. 1883 d. 29 May 1972 - native of Minnesota
Donnelly, Chester B. b. 1880 d. 1959
Donnelly, Nannie E. b. 1887 d.
Dopking, Frank b. 1874 d. 1944
Dougherty, Mary Ellen b. 8 Sept. 1880 d. 25 Aug. 1957
Dow, Clarence L. b. 10 Jan. 1865 d. 25 March 1928
Doyle, Eugene H. b. 1872 d. 1952
Doyle, Lula b. 30 Oct. 1885 d. 1 April 1955
Doyle, William F. b. 20 Oct. 1875 d. 1 Oct. 1955
Driggers, George W. b. 15 Nov. 1895 d. 28 June 1946
Ducasse, Evelyn W. b. 31 Mar. 1917 d. 15 Mar. 2005
Duff, Allan Dale b. 24 Mar. 1950 d. 28 Mar. 1950
Duff, Sandra Ann b. 9 Mar. 1948 d. 13 Sept. 1948
Dunbar, infant son - 7 Aug. 1941 -
Durney, Beatrice d. 9 Sept. 1947 - 68 years - native of Kent, England
Dyer, Betty Jean b. 2 Oct. 1952 d. 12 Jan. 1953
Dyer, Donna L. b. 1919 d. 2004
Dyer, Gary Arthur b. 30 Jan. 1937 d. 26 Dec. 1939

E
Eayrs, Ben E. b. 1872 d. 1940
Eayrs, Ida M. b. 7 Jan. 1874 d. 24 June 1975
Eayrs, Jessie L. b. 19 June 1898 d. 15 Oct. 1965
Eayrs, Myrtle I. b. 16 June 1899 d. 2 Nov. 1971
Echandia, Emilia S. b. 19 July 1907 d. 1 Dec. 1999
Echandia, John M. b. 28 April 1926 d. 27 Aug. 1926
Echandia, Max b. 1 Nov. 1892 d. 24 April 1971
Edoyaga, Cecilia b. 1898 d. 1944
Edoyaga, Jose b. 1891 d. 1946
Edson, Alida C. b. 27 July 1887 d. 13 Aug. 1981
Edson, Frederick D. b. 27 Feb. 1930 d. 11 May 1998
Edson, Harvey A. b. 10 Oct. 1889 d. 13 June 1941
Edwards, Erma L. b. 1917 d. 1953
Edwards, Jack M. b. 22 Feb. 1927 d. 8 Sept. 1957
Edwards, Leonard "Lum" N. b. 22 Mar. 1904 d. 30 Mar. 1975
Edwards, Mahala "Hallie" Belle b. 24 Dec. 1908 d. 7 Sept. 1994
Edwards, Posie b. 1924 d. 2004
Edwards, Revis b. 1925 d. 2004
Eifilnar, Vlaad b. 1561 d. 1662
Elder, Caroline N. b. 1 Sept. 1903 d. 20 Feb. 1957
Elder, Esther b. 3 Nov. 1904 d. 11 April 1992
Elder, George F. b. 12 Aug. 1898 d. 21 Aug. 1977
Elder, John Thomas b. 1934 d. 1944
Elledge, Booth b. 22 May 1872 d. 21 Nov. 1944
Elledge, Edna E. b. 19 April 1878 d. 7 Dec. 1936
Elledge, Francis b. 1850 d. 1939
Ellena, Catherine b. 9 April 1876 d. 10 Oct. 1956
Ellena, Charles C. b. 26 June 1907 d. 16 Jan. 1961
Ellena, Costante "Charlie" b. 9 sept. 1873 d. 19 Aug. 1945
Ellena, John b. 7 Nov. 1867 d. 18 Dec. 1926 - native of Italy
Ellena, Mary b. 24 Sept. 1874 d. 11 Mar. 1930 - native of Italy
Elliott, Freda J. b. 22 Mar. 1923 d. 23 Oct. 1993
Elliott, Robert Oliver b. 8 Aug. 1922 d. 7 Feb. 1997
Elmer, Edward Elden b. 1911 d. 1951
English, Clyde d. 1952 - no marker
Enix, Glen R. b. 25 July 1923 d. 23 Jan. 1963
Enix, Jennings Clyde b. 12 Aug. 1900 d. 18 Jan. 1986
Epperson, John E. b. 7 Jan. 1885 d. 17 Feb. 1946
Epperson, Lois b. 18 April 1932 d. 28 July 1952
Ernaga, John b. 31 July 1893 d. 7 April 1958
Ernaga, Lena M. b. 1900 d. 1951
Ervin, Edward M. b. 1876 d. 1942
Erwin, Edna b. 4 Mar. 1890 d. 16 April 1975
Erwin, Perry H. b. 10 Feb. 1885 d. 27 July 1956
Esani, Guy b. 8 March 1872 d. 12 Sept. 1923 - native of Italy
Esennaro, Angela U. b. 31 May 1898 d. 30 Dec. 1986
Esennaro, Jess b. 15 Oct. 1894 d. 17 Mar. 1979
Espelet, Baptist b. 3 Mar. 1891 d. 29 Dec. 1972 - native of France
Espelet, Elizabeth b. 2 July 1896 d. 8 Aug. 1973 - native of France
Espinoza, Raymondo b. 28 Jan. 1931 d. 15 July 1931
Estacio, Grace A. b. 30 April 1893 d. 21 Oct. 1969
Etcheberry, Pierre b. 8 June 1900 d. 31 May 1961
Etchecopar, Alex b. 14 Feb. 1883 d. 21 March 1959
Etchecopar, Dominqua b. 2 April 1896 d. 8 Aug. 1976
Etchecopar, Emelia b. 1933 d. 1936
Etchecopar, Peter H. b. 15 April 1889 d. 24 June 1972
Etcheto, Marie b. 6 Feb. 1937 d. 9 Sept. 1937
Evans, Amos E. b. 1865 d. 1939
Evans, Arthur Ray b. 2 June 1910 d. 19 Mar. 1945
Evans, Chlora Loveland b. 25 Aug. 1885 d. 25 Oct. 1979
Evans, George A. b. 1871 d. 1941
Evans, Ida E. b. 16 Mar. 1924 d. 30 Aug. 1987
Evans, Ira b. 14 Mar. 1882 d. 16 May 1943
Evans, Johnnie J. b. 7 June 1920 d. 4 Mar. 1925
Evans, Maggie b. 1875 d. 1940
Evans, Martha J. b. 1876 d. 1973
Evans, Mervin R. 17 Dec. 1921 d. 8 Feb. 2005
Evans, Ora b. 1858 d. 1948
Evans, Ramona E. b. 30 June 1928 d.
Evans, Robert L. b. 27 Sept. 1922 d.
Evans, Susie b. 1839 d. 1939
Evernden, Roy E. - b. 1893 d. 1931
Ewing , Lola M. b. 22 Mar. 1942 d. 23 Jan. 1956
Ewing , Thomas H. b. 24 July 1886 d. 13 Dec. 1949
Ewing , Vernon C. b. 7 Aug. 1911 d. 7 Jan. 1989
Ezell, Elvin - no date

F
Fain, Mary Ellen b. 1886 d. 1942
Fairchild, Powell b. 18 Oct. 1899 d. 25 Sept. 1943
Falker, Carol Elaine b. 21 Feb. 1945 d. 17 Aug. 1973
Fanning, Effie M. b. 1881 d. 1954
Fanning, Sarah A. b. 1854 d. 1931
Farano, Adeline "Lilly" b. 13 Jan. 1908 d. 7 April 1901
Farano, Antonio Luigi b. 1890 d. 1961
Farano, Charles b. 1895 d. 1973
Farano, Roseangela b. 22 Mar. 1856 d. 23 Sept. 1948
Farless, Bertha Riley b. 20 May 1913 d. 30 May 1981
Farrace, Giuseppe b. 28 Dec. 1889 d. 9 Dec. 1968
Farrace, Giusepina b. 28 May 1898 d. 17 Sept. 1957
Farrace, Mary b. 10 March 1923 d. 24 March 1924
Farrace, Mike b. 3 April 1926 d. 14 Sept. 1926
Farris, Abraham b. 1874 d. 1940 - native of Syria
Farris, Tala b. 1889 d. 1982 - native of Syria
Faulkner, Oscar Charles b. 1 April 1876 d. 31 Oct. 1939
Faulkner, Ralph Jr. b. 1929 d. 1929
Faure , Frances Fay b. 28 Oct. 1943 d. 21 April 1944
Faure, Frank J. 1 May 1914 d. 25 May 1998
Faure, Joyce Ann b. 23 Aug. 1940 d. 29 Aug. 1940
Faure, Maudie B. b. 4 Mar. 1925
Fauser, Edward b. 14 Dec. 1910 d. 18 Nov. 1979
Fauser, Sarah b. 1 Aug. 1913 d. 7 Aug. 1974
Favero, Emilio b. 1896 d. 1949
Favretto, Erminio E. b. 1897 d. 1985
Favretto, Michiele b. 1890 d. 1927
Felion, Edward L. b. 9 Aug. 1906 d. 21 June 1940
Felion, Violet E. b. 27 July 1908 d.
Felton, Amanda b. 1827 d. 1927
Felton, Raymond M. 1858 d. 1946
Ferrari, Enrichetta b. 11 Feb. 1923 d. 22 Sept. 1925 native of Westwood
Ferrari, John b. 1886 d. 1954
Ferrari, Lucia b. 1887 d. 1966
Ferrell, Eva A. d. 20 March 1974 age 83 years - nor marker
Ferrell, George Lloyd b. 6 July 1889 d. 22 Nov. 1956
Fiedler, Stella May b. 15 May 1898 d. 13 Oct. 1982
Fielding, Charles W. b. 2 May 1897 d. 12 Oct. 1953
Fillman, Roscoe L. b. 9 Sept. 1894 d. 12 Nov. 1958 - no marker
Fincher, Bill b. 24 Aug. 1941 d. 17 Jan. 2004
Fincher, June Mary Amy b. 12 Jan. 1919
Fincher, Merl Hunt b. 30 Jan. 1915 d. 5 Aug. 1969
Fiora, Antonio b. 15 Aug. 1882 d. 11 Aug. 1932 - native of Italy
Fisher, Jerome b. 30 Sept. 1923 d. 19 Nov. 1924
Flemens, William b. 1897 d. 1958
Flores , Lawrence b. 2 July 1918 d. 17 Aug. 1962
Ford, Bessie b. 10 Oct. 1882 d. 21 April 1935
Ford, Carrie F. b. 6 Feb. 1907 d. 24 Oct. 1956
Ford, Eddie b. 1 Jan. 1880 d. 10 Sept. 1953
Ford, Velma Duane b. 5 Dec. 1933 d. 28 Dec. 1993
Forno, Salvina Accomazzo b. 17 July 1885 d. 3 Aug. 1937 - native of Italy
Foshee, William d. 21 July 1976 age 82 years - no marker
Foster, Clifford b. 1906 d. 1934
Foster, Ruby b. 1896 d. 1930
Fox, Francis J. b. 1897 d. 1959
Frailey, Kathy Lynne b. 28 July 1955 d. 19 Jan. 1959
Franceschini, Carlo b. 1893 d. 1952 - native of Switzerland
Franceschini, Maria b. 1890 d. 1973 - native of Switzerland
Franke, Theodore L. b. 1889 d. 1948
Fraser, Albert S. b. 31 Oct. 1863 d. 28 June 1939 - native of Nova Scotia
Frederickson, Percy C. b. 7 June 1900 d. 24 Oct. 1985
Frederickson, Ruby b. 18 Oct. 1908 d. 21 Oct. 1985
Freeman, William L. b. 25 Dec. 1919 d. 30 Mar. 1981
Fremd, Ernest b. 14 Dec. 1914 d. 1 March 1975
Fremd, Gottlob b. 12 Feb. 1881 d. 6 April 1953
Fremd, Sigrid b. 22 Mar. 1888 d. 16 May 1965
French, Doris L. b. 26 Nov. 1923 d.
French, Ivor C. b. 11 June 1919 d. 26 Nov. 1996
French, J. L. "Bundy" - b. 19 Aug. 1875 d. 30 Mar. 1956
French, John T. b. 25 Dec. 1886 d. 1 July 1953
French, Katie A. b. 6 Sept. 1902 d. 22 April 1979
French, Theodore Wayne b. 30 Mar. 1946 d. 15 May 1988
French, Winifred B. b. 4 Nov. 1894 d. 1 Oct. 1977
Frizzie, Angelique b. 1850 d. 1935
Frizzie, Emil B. b. 1894 d. 1926
Frizzie, Phillip J. b. 1930 d. 1930
Frodsham, Harold b. 5 Aug. 1879 d. 28 Feb. 1958
Frodsham, Margaret b. 7 Sept. 1878 d. 7 April 1968
Fry, Earl L. b. 14 April 1881 d. 16 July 1951
Fry, Hubert D. b. 22 Oct. 1919 d. 11 May 1989
Fry, William Ernest b. 21 Nov. 1907 d. 17 July 1930
Fuentes, Delfina Loreta A. b. 1 May 1958 d. 14 June 1959
Fuentes, Nieves Avila b. 4 Oct. 1934 d. 14 June 1959
Fulenwider, Louise Janine b. 27 May 1952 d. 31 May 1952
Fuller, Jacquelyn Bell b. 30 May 1929 d. 10 April 1893
Fulton , Burta b. 1885 d. 1987
Fulton , Waldron H. b. 1871 d. 1941
Furletti, Domenico b. 1883 d. 1943

G
Gallaway, Ernest b. 1886 d. 1943
Gallaway , Georgia Louise b. 1889 d. 1980
Gallaway, Raymond Sparks b. 1927 d. 1940
Gamble, Elias V. b. 1847 d. 1933
Gamble, Elizabeth b. 1851 d. 1927
Gamble, George b. 1848 d. 1932
Gann, Annie b. 26 Jan. 1890 d. 8 Oct. 1982
Gann, Arlie B. b. 13 Nov. 1909 d. 15 Dec. 1975
Gann, Grover Ed. b. 15 Sept. 1888 d. 13 Aug. 1972
Gann, Tressie M. b. 17 April 1917 d.
Garate, Albert L. b. 19 May 1922 d. 25 Nov. 1980
Garate, Candido b. 1886 d. 1927
Garate, Eugene b. 15 Oct. 1869 d. 31 Oct. 1923 - native of Spain
Garate, John R. b. 23 May 1909 d. 30 July 1945
Garate, Lyn Renee b. 25 April 1956 d. 28 April 1956
Garate, Marie b. 2 Feb. 1881 d. 27 Aug. 1960
Garate, Nancy Gail b. 1948 d. 1955
Garayoa, Eugene b. 24 Sept. 1921 d. 8 Nov. 1987
Garayoa, Gary Mac b. 9 Dec. 1947 d. 12 Dec. 1947
Garayoa, Macardio b. 10 Mar. 1886 d. 26 Dec. 1944
Garayoa, Margaret b. 3 Oct. 1923 d. 3 Dec. 2001
Garcia, Santiaga b. 25 July 1840 d. 8 Dec. 1944
Garnier, Emanuel M. b. 1875 d. 1957
Garnier, Laura L. b. 1877 d. 1970
Garnier, Leola A. b. 1908 d. 1932
Garnier, Manuel A. d. 10 April 1971 age 70 years
Garnier, Seraphin b. 3 Feb. 1889 d. 16 Sept. 1976
Garzella, Rosina - b. 7 July 1883 d. 27 Mar. 1955 - native of Italy
Gasperoni, Giovanni b. 1889 d. 1982
Gasperoni, Irma b. 19 Feb. 1898 d. 11 Jan. 1986
Gatlin, Robert Lee b. 1934 d. 1934
Gavrish, Leonard S. b. 8 Aug. 1927 d. 31 Aug. 1955
Gavrish, Lynda Ann - 18 February 1954-
Gavrish, Stanley J. b. 1906 d. 1967
Gearhart, Leroy Vernon b. 4 Aug. 1930 d. 22 Aug. 1956
Gee, Yee Shee b. 1880 d. 1950
Gehring, Frank - no dates
Gehrt, Abijail b. 1891 d. 1973
Gehrt, William b. 1881 d. 1951
Geiger, Beatrice K. b. 8 Nov. 1892 d. 23 Oct. 1963
Geiger, Frank W. b. 18 Nov. 1889 d. 29 Oct. 1961
Gelmstedt, John W. b. 11 June 1895 d. 22 Feb. 1956
Gelmstedt, Leona F. b. 1 June 1899 d. 24 Dec. 1985
Geraldo, Fred b. 1905 d. 1961
Gibson, B.F. b. 1865 d. 1852
Gibson, Clara E. b. 1872 d. 1955
Gibson, George W. b. 29 Nov. 1903 d. 25 Nov. 1956
Gibson, Howard b. 1861 d. 1942
Gibson, Jay A. b. 26 Sept. 1895 d. 10 Mar. 1983
Gibson, Jay L. b. 1860 d. 1931
Gibson, Jessie b. 1903 d. 2003
Gibson, Thelma I. b. 3 Dec. 1896 d. 25 Nov. 1987
Gibson, Thelma M. b. 1 Aug. 1905 d. 8 Dec. 1996
Giguiere, Billy Lee b. 10 Jan. 1944 d. 20 Dec. 1955
Gilbanks, Lily Vina b. 1874 d. 1928
Gilbert, Emily Jane b. 1878 d. 1966
Gilbert, Frederick Geary b. 1879 d. 1960
Gilbert, Janet Rae - 18 October 1948-
Gilbert, Jerry Gene - 18 October 1948 -
Ginsbach, Catherine O. b. 1881 d. 1981 - wife of C.C. Cramer
Glasser, Mae McQueen b. 1896 d. 1997
Glenn, Robert F. b. 1875 d. 1951
Gloster, Otilla Cramer b. 20 Feb. 1908 d. 12 Sept. 1996
Godemo, Annie b. 1903 d. 1945
Godman, Ethel b. 5 Nov. 1917 d. 1 Oct. 1932
Godman, Eugene P. b. 28 Oct. 1912 d. 28 Aug. 1959
Godman, Fern - b. 30 Nov. 1921
Godman, James H. b. 7 April 1882 d. 20 June 1947
Godman, Mabel C. b. 3 Oct. 1887 d. 21 April 1939
Gomez, Alfonso b. 2 Aug. 1886 d. 26 Feb. 1945
Gomez, Joseph Leocadio b. 9 Dec. 1920 d. 15 Nov. 1985
Gomez, Maria G. b. 4 Nov. 1888 d. 21 Mar. 1973
Gomez, Theodore Lopez b. 2 April 1844 d. 5 May 1951
Gonsalves , Frances b. 1914 d. 1972
Gonzales, Rene d. Sept. 1976 age 46 years - no marker
Gonzales, Socorro b. 4 Oct. 1929 d. 25 Jan. 1944
Gonzalez, Trina b. 1919 d. 1941
Goodaker, Edward S. b. 11 May 1918 d. 17 July 1968
Goodaker, Peggy H. b. 9 Dec. 1911 d. 17 Jan. 1968
Goodrich, Grace b. 23 Dec. 1918 d. 30 Sept. 1932
Gordon, Richard O. b. 1861 d. 1929 - native of Scotland
Gould, Gordon K. b. 10 March 1921 d. 2 Jan. 1945
Graf, William C. b. 24 Nov. 1887 d. 10 May 1932
Graham, Cedric J. "Sid" b. 1904 d. 1950
Graham, Dallas b. 1887 d. 1946
Graham, Marguerite J. b. 1903 -
Granados, Emma b. 1904 d. 1939
Graner, John b. 20 Mar. 1889 d. 11 Mar. 1954
Granrud, Augusta E. b. 8 Jan. 1909 d. 26 Dec. 1970
Granrud, Donald S. b. 5 July 1914 d. 27 Dec. 1970
Granrud, Tillie b. 1885 d. 1956
Grant, Ben b. 1 June 1890 d. 30 May 1947
Grant, Eldon Glar b. 31 Dec. 1923 d. 30 Dec. 1928
Grant, Howard Ben b. 18 Feb. 1922 d. 22 Nov. 1989
Grant, Infant - 2 July 1950 -
Grant, Viola B. b. 1902 d. 1939
Gray, James J. b. 9 Feb. 1886 d. 23 Dec. 1954
Green, Jeanne B. b. 28 May 1922 d.
Green, Ray J. b. 1898 d. 1950
Green, Robert F. b. 7 Oct. 1926 d. 27 May 1985
Green, Warren V. d. 30 July 1978 age 59 years
Greer, Evans b. 10 June 1890 d. 18 Nov. 1944
Greer, Ray V. b. 2 Jan. 1932 d. 29 June 1945
Gregerson, John b. 8 July 1882 d. 30 July 1956
Gregerson, Martha b. 21 Jan. 1879 d. 22 Dec. 1969
Greig, Arthur D. b. 1890 d. 1943
Greig, John F. b. 1902 d. 1935
Griffin , John Paul b. 1907 d. 1936
Griffin , Louise b. 1878 d. 1952
Griffin , Melvin b. 1878 d. 1972
Griffin , Myra E. - age 87 years
Griffin , Neil Asa b.1909 d. 1961
Grimes, R. Edward b. 1878 d. 1925
Grinnell, Loris b. 19 Sept. 1929 d. 7 Nov. 1936
Grisold, Raymond L. b. 1915 d. 1955
Groom, Charles Edward b. 15 April 1897 d. 12 Sept. 1951
Groom, Marshall W. b. 2 Dec. 1856 d. 5 Dec. 1940
Gross, Frank S. d. 20 June 1930 , aged 76 years 2 months, 29 days
Guenaga, Basilio Jose b. 1889 d. 1936 - native of Spain
Guenaga, Cecilia Elbira b. 14 July 1925 d. 13 May 1932
Guenaga, Clara Marie d. 24 Sept. 1927 age 1 month and 11 days
Guenaga, Massimo A. b. 5 March 1992 d. 24 March 1954
Guenaga, Modesta S. b. 15 June 1887 d. 10 May 1963
Guibergia, Frank b. 21 July 1897 d. 3 July 1962 (grave removed)
Guibergia, Harry P. b. 11 Nov. 1925 d.
Guibergia, Lucille F. b. 8 Dec. 1927 d. 27 June 1952
Guibergia, Yvonne b. 29 Oct. 1900 d. (grave removed)
Guibinni, A. b. 29 June 1864 d. 9 Sept. 1934
Guitierez, Arietta " Dee " b. 1 Feb. 1922 d. 10 Feb. 2006
Guitierez, Felix G. b. 1896 d. 1949
Guitierez, Grace J. b. 1900 d. 1982
Gunderson, Galen Lee b. 8 Feb. 1955 d. 3 Dec. 1955
Guzman, Betty Joe b. 10 Feb. 1929 d. 28 Aug. 1990
Guzman, Jamie b. 8 Dec. 1928 d.

H
Haas, Lucy M. b. 4 April 1930
Hass, Ronald F. b. 19 Nov. 1928 d. 25 Jan. 2003
Haeckler, Edna Cramer b. 1897 d. 1936 - wife of Dr. E.
Hagata, Annie B. 1897 d. 1977
Hagata, John M. b. 1880 d. 1957
Hagata, Marcel J. b. 21 Mar. 1924 d. 19 June 1991
Haines, Ward Taver b. 1875 d. 1921
Halderman, Cornielius b. 4 Dec. 1881 d. 19 Aug. 1957
Haley, Clent H. b. 1 Nov. 1886 d. 2 Mar. 1968
Haley, Lee A. b. 19 Dec. 1876 d. 12 Jan. 1958
Haley, Linda C. b. 7 Nov. 1894 d. 30 April 1994
Haley, Rhoda Erma b. 9 Aug. 1897 d. 25 July 1985
Haling, Perry LeRoy b. 26 June 1893 d. 21 March 1957
Halkett, Pete b. 15 June 1871 d. 10 Jan. 1960
Hall, Andrew b. 29 Dec. 1890 d. 6 Jan. 1945
Hall, Bertie b. 15 Feb. 1891 d. 11 Oct. 1976
Hall, Dennis B. b. 4 April 1915 d. 17 July 1986
Hall, Ernest F. b. 17 Jan. 1922 d. 5 Mar. 2002
Hall, Frank d. 5 February 1975 age 60 years - no marker
Hall, William J. b. 6 April 1911 d. 3 July 1947
Hamilton , Jack b. 15 Nov. 1916 d. 6 Mar. 1996
Hammond , Richard b. 1883 d. 1958
Hampson, James P. b. 17 Oct. 1884 d. 30 Nov. 1936
Hampson, Jennie J. b. 1893 d. 1959
Hamzy, Hazel LeDou b. 13 Jan. 1922 d. 30 June 2003
Hanna, Vernon C. b. 7 Dec. 1901 d. 10 Aug. 1966
Hannah, Maudie F. b. 1891 d. 1969
Hannah, William T. b. 1880 d. 1961
Hardy, Mildred C. b. 1908 d. 1986
Hardy, Wallace V. b. 1902 d. 1988
Harger, James b. 10 Feb. 1873 d. 12 Mar. 1953
Harper, Ransom b. 1860 d. 1926
Hart, Gladys I. b. 29 Jan. 1902 d. 3 Nov. 1990
Hart, John B. b. 5 Aug. 1896 d. 29 Dec. 1958
Hartley, Anderson E. b. 16 July 1895 d. 10 July 1958
Hartley, Hazel b. 17 April 1902 d. 20 July 1980
Hatch, Kenneth Duane b. 20 April 1958 d. 29 Dec. 1974
Hawggart. David A. d. 25 January 1924 aged 54 years
Hawkins, James Martin b. 5 April 1923 d. 11 April 1956
Haws, Celestia b. 1887 d. 1942
Haws, Josephine b. 1918 d. 1950
Haws, Kent Dennison b. 7 July 1944 d. 30 June 2002
Haws, Wallace D. b. 1881 d. 1949
Haws, Wallace "Nat" b. 5 June 1915 d. 25 Sept. 2003
Hay, Anna b. 12 Aug. 1863 d. 12 July 1951
Hay, James J. d. 16 September 1961 age 75 years - no marker
Hay, Maybelle b. 20 May 1887 d. 27 Mar. 1973
Hayden, Edith Marion b. 2 Feb. 1910 d. 31 Aug. 1961
Hayden, Orin L. b. 22 Dec. 1903 d. 12 Oct. 1958
Hayes, Annie C. b. 1879 d. 1956
Hayes, Cora May b. 10 Aug. 1877 d. 1 Dec. 1922
Hayes, Noah E. b. 1867 d. 1946
Hayes, Thomas J. b. 1871 d. 1952
Head, Russell b. 19 April 1915 d. 2 April 1957
Heald, Blanche H. b. 5 Dec. 1901 d. 9 Jan. 1970
Heard, John W. - 25 March 1927-
Heath, Charolette S. b. 11 Dec. 1889 d. 26 April 1956
Heath, John W. b. 12 July 1884 d. 16 Nov. 1936
Heflin, Infant - 1950 - no marker
Heilemann, Mary B. b. 21 June 1869 d. 14 Jan. 1959
Heizler, Fenton K. b, 1906 d. 1946
Hendrickson, Cherrie Louise - 22 February 1946 -
Henrici, Carolyn Neipoth b. 29 Nov. 1930 d.
Henrici, Ernest E. b. 3 Sept. 1894 d. 5 May 1941
Henrici, Patricia b. 29 Mar. 1930 d.
Henrici, Richard E. b. 2 Jan. 1927 d.
Henson, Harrye O. b. 1895 d. 1951
Heredia, Juanita b. 12 June 1922 d. 8 April 1923
Herman , Virginia Ellen b. 1942 d. 1984
Hermant, Joseph b. 1884 d. 1967
Hermant , Victoria N. b. 1888 d. 1944
Heuson, Catherine E. b. 6 June 1882 d. 1 Nov. 1962
Heuson, Curtis H. b. 10 Dec. 1911 d. 17 May 1984
Heuson, Henry C. b. 1 Oct. 1883 d. 3 Oct. 1953
Heuson, Jennifer D. b. 4 Jan. 1974 d. 5 Jan. 1974
Heuson, Marie (Mary) b. 4 July 1912 d. 28 Jan. 1990
Hill, Alma E. b. 11 Sept. 1897 d. 23 May 1981
Hill, Archie Walton b. 17 Aug. 1901 d. 23 Feb. 1960
Hill, Artie O. b. 1879 d. 1955
Hill, Ertie B. b. 1875 d. 1937
Hill, Fayne L. b. 1867 d. 1977
Hill, Florence M. b. 13 Mar. 1905 d. 21 May 1988
Hill, George William b. 1865 d. 1931
Hill, Hubert W. b. 12 Dec. 1897 d. 19 April 1949
Hill, Lawrence b. 25 Oct. 1901 d. 19 Oct. 1968
Hill, Louisa Minerva b. 1867 d. 1955
Hill, Maria G. b. 21 April 1903 d. 30 July 1969
Hill, Mildred L. b. 27 Oct. 1900 d. 26 Jan. 1967
Hill, Thelma J. b. 25 Aug. 1908 d. 22 Jan. 1990
Hill, William Frawley b. 17 June 1923 d. 3 May 1995
Hisaw, Effie B. b. 1892 d. 1977
Hisaw, Otto B. b. 1883 d. 1957
Hobbs , John R. b. 1892 d. 1942
Hoffman, Adolph b. 1855 d. 1954
Hoffman, Charlie Hilpert b. 21 Oct. 1891 d. 17 July 1926 - son of Wm.
Hoffman, Jennie J. b. 1858 d. 1937
Hoggatt, George Chesley b. 23 Aug. 1892 d. 21 Jan. 1958
Holland , Almeda M. b. 11 Nov. 1855 d. 9 Jan. 1934
Holland , Gloria G. b. 1923 d. 1924
Holland , Joseph b. 1849 d. 1923
Honea, Lester S. "Sammy" b. 25 Oct. 1938 d. 5 Oct. 1956
Hooks, Aaron b. b. 25 Nov. 1855 d. 26 April 1935
Hooks, Catherine L. b. 16 Feb. 1853 d. 27 Dec. 1928
Hooks, Charles E. b. 1877 d. 1958
Hooks, Charles M. b. 10 Sept. 1905 d. 3 June 2000
Hooks, Elmer G. b. 1883 d. 1954
Hooks, George L. b. 1886 d. 1951
Hooks, Glenn J. b. 5 June 1903 d. 23 Aug. 1967
Hooks, Ida Reed b. 1915 d. 1937
Hooks, Jack Albert b. 28 Jan. 1909 d. 1 Mar. 1904
Hooks, Leona b. 10 Jan. 1915 d. 29 May 1980
Horton, Cletus b. 20 Jan. 1909 d. 28 Aug. 1958 - son of Ben
Hotaling, Albertie E. b. 27 July 1905 d. 26 Sept. 1931
Houghton, Augusta - b. 1885 d, 1978
Houghton, Joseph b. 1862 d. 1934
House, V.I. - b. 1859 d. 1933
Howard, Carl b. 1880 d. 1924 - native of Ohio
Howe, George A. b. 1876 d. 1924
Howe, Infant - 6 December 1950-
Hoxsey, Edna Mae b. 3 Oct. 1902 d. 15 Sept. 1998
Hoxsey, Ora Rosa b. 23 Oct. 1920 d. 23 Sept. 1946
Hoxsey, William "Doug" b. 22 Sept. 1893 d. 17 Dec. 1969
Huber, Lois b. 1 May 1912 d. 27 Aug. 1960
Huber, Pearl Reynolds b. 10 Nov. 1906 d. 3 Jan. 1991
Huffman, Homer C. b. 19 Mar. 1885 d. 26 June 1946
Hull , Beatrice C. b. 16 Oct. 1917 d. 15 May 1997
Humphrey, Katherine b. 1877 d. 1938
Hunt, Anna May b. 1894 d. 1970
Hunt, Clarence Henry b. 1894 d. 1955
Hunter, Margaret M. b 8 Aug. 1924 d. 1 June 1925
Huntington , Lottie E. Stampfli b. 20 Sept. 1896 d. 29 Aug. 1984
Hutchinson , Elra b. 1890 d. 1949
Hutchinson , Sadie b. 1895 d. 1976
Hyatt, Arlene b. 24 Aug. 1927 d. 8 April 1932
Hyatt, Gladys Ruth (baby) - 1 Mar. 1938 -
Hyatt, Kenneth Ray - 30 October 1950 -
Hyatt, Tommie Jr. (baby) - 5 June 1946 -
Hyatt, William H. b. 1896 d. 1944
Hye, Kathryn A. b. 23 July 1913 d. 28 June 1952
Hylen, Ann Fessey b. 28 June 1870 d. 1 Dec. 1952
Hylen, George b. 19 May 1912 d. 17 July 1989
Hylen, George N. b. 13 Nov. 1870 d. 11 Jan. 1935
Hylen, Ragnhild G. b. 15 June 1900 d. 20 Dec. 1971

I
Iba, James b. 5 June 1939 d. 23 July 1939
Ingersoll, Robert Gary - 28 April 1950 -
Ithurburn, Beltrand b. 16 April 1890 d. 3 Dec. 1956
Ithurburn, Catherine b. 2 July 1896 d. 24 Aug. 1985
Ithurburn, Peter Joseph b. 18 Mar. 1934 d. 1 Oct. 1991
Ius, Giuseppi "Joe" - b. 1895 d. 1943

J
Jabat, Jose b. 15 July 1895 d. 24 Dec. 1984 - native of Urroz , Spain
Jack, Bessie Elizabeth b. 1 Feb. 1893 d. 21 Sept. 1993
Jack, Capt. Ernest b. 19 May 1889 d. 25 Feb. 1950
Jackson, Joseph W. b. 22 April 1893 d. 16 Aug. 1956
James, Robert Lee b. 28 Jan. 1906 d. 27 Oct. 1956
January, C.A. b. 15 Nov. 1875 d. 10 June 1936
Jarvis, Clarence b. 22 Oct. 1930 d. 5 April 1933
Jarvis, Henry A. b. 1862 d. 1944
Jarvis, Nellie M. b. 1867 d. 1938
Jeniegas, Joan B. d. 19 October 1974 age 49 years - no marker
Jenkins, Baby - 25 Nov. 1931-
Jenkins, H.M. b. 1896 d. 1946
Jenkins, Mabel R. b. 23 May 1911 d. 21 Nov. 2003
Jenkins, Morgan J. b. 5 Mar. 1903 d. 28 April 1966
Jenkins, Thomas L. b. 24 Sept. 1904 d. 19 Nov. 1980
Jensen, Scott Lee b. 2 May 1986 d. 14 June 1986
Johanson, Junior - 30 September 1938 -
Johnson, Andrew b. 14 March 1871 d. 18 March 1951 - native of Sweden
Johnson, Christine b. 1874 d. 1942
Johnson, Dorothy J. b. 6 Jan. 1908 d. 24 Sept. 1943
Johnson, Elmer b. 1903 d. 1961 - no marker
Johnson, Gustaf b. 1861 d. 1936
Johnson, Hugo b. 20 April 1901 d. 6 Nov. 1958
Johnson, Hulda b. 7 Oct. 1874 d. 18 March 1961 - native of Sweden
Johnson, James C. b. 1878 d. 1939
Johnson, Magnus b. 1883 d. 1938
Johnson, Martin b. 1868 d. 1963
Johnson, Mary M. b. 1883 d. 1950
Johnson, Nels b. 1879 d. 1958
Johnson, Rae Robert b. 16 July 1904 d. 18 Oct. 1955
Johnston, Joyce Reedy b. 1931 d. 1958
Johnston , Mary Margaret b. 28 Oct. 1922 d. 17 April 1959
Joines, Eri John b. 1903 d. 1981
Joines, Thelma b. 1908 d.
Jones, Addie M. b. 1882 d. 1951
Jones, Barbara Fay b. 1931 d. 1931
Jones, Bessie L. b. 1884 d. 1952
Jones, Caleb R. b. 1882 d. 1957
Jones, David R. b. 28 Sept. 1870 d. 5 May 1955
Jones, Elwin N. b. 4 Jan. 1913 d. 4 July 1965
Jones, George H. b. 30 Aug. 1901 d. 29 Oct. 1948
Jones, John K. b. 28 July 1911 d. 21 July 1968
Jones, John Lyle b. 7 Aug. 1915 d. 5 May 1932
Jones, Leland b. 1 Nov. 1900 d. 12 May 1957
Jones, Marilyn Law b. 3 Dec. 1935 d. 9 Feb. 1985
Jones, Sarah E. b. 24 Oct. 1880 d. 27 Jan. 1951
Joseph, Tanya Elizabeth b. 19 Sept. 1972 d. 20 Jan. 1997
Joslyn, C.L. b. 1864 d. 1933

K
Kaerth, Elmer D. b. 16 Jan. 1900 d. 29 Mar. 1957
Kaerth, Lutie M. 12 Feb. 1904 d. 26 Aug. 1988
Kaufman, Alpheus J. b. 5 Aug. 1879 d. 3 April 1965
Keefe, Baby Louis Ann - 5 April 1955 -
Keenan, Lanita J. b. 1 Jan. 1931 d. 3 Mar. 1933
Kelly, John b. 1864 d. 1941
Kelly, Joseph F.b. 1875 d. 1934
Kenyon, Althea Kennedy b. 9 Oct. 1904 d. 10 Sept. 1995
Kenyon, Walter G. b. 15 April 1898 d. 20 June 1982
Kern, Eli - 22 June 1929 -
Kern, Julian S. b. 28 Oct. 1908 d. 23 July 1951
Kernan, Martha J. b. 1866 d. 1953
Kester, Anna b. 1900 d. 1964
Kester, Ivy W. "Peg" b. 1890 d. 1953
Kester, Mary Louisa b. 1866 d. 1935
Kienenberger, Ervin W. b. 1886 d. 1954
Killough, Samuel B. b. 1878 d. 1941
Kimbrough, Kenneth b. 30 Sept. 1928 d. 4 Jan. 1959
Kincaid, Tom b. 6 Sept. 1874 d. 2 Feb. 1947
Kinney, Granville H. b. 6 Feb. 1885 d. 19 Mar. 1969
Kinney, Lena M. b. 26 Jan. 1888 d. 3 Feb. 1960
Kinser, Janet Sprowl - 16 February 1955 -
Kinser, Jessie Ann b. 23 Feb. 1882 d. 13 July 1956
Kinser, M. Ernest b. 7 Jan. 1881 d. 27 Oct. 1957
Kirkland , Thomas b. 1872 d. 1944
Kirkpatrick, Orlando b. 15 Nov. 1869 d. 15 Dec. 1967
Kliewer, George F. b. 6 Dec. 1938 d. 2 Mar. 1993
Kliewer, Marilyn b. 5 Sept. 1940 d.
Kline, Uriah d. 7 July 1928 aged 72 years
Klotz, William Irwin b. 2 May 1917 d. 10 April 1925
Knezevich, Baby - 14 March 1932-
Knezevich, Elias R. b. 24 June 1928 d. 5 May 1959
Knezevich, Jana b. 6 Nov. 1900 d. 17 Aug. 1998
Knezevich, Risto J. b. 27 Mar. 1889 d. 23 Aug. 1971
Knezevich, Violet b. 1911 d. 1987
Knox, Angie K. b. 1879 d. 1934
Knudsen, Michael Walter b. 5 Dec. 1947 d. 1 June 1948
Knudsen, Richard W. b. 27 June 1949 d. 20 Mar. 1988
Koerner, Phillip A. b. 18 Mar. 1885 d. 30 Jan. 1946
Kroeger, Henry d. 1 Sept. 1938 aged 76 years
Krouse, Fred L. b. 16 Dec. 1896 d. 3 June 1958
Kurpraszio, Anthonas b. 20 Jan. 1890 d. 10 July 1968
Kurtzweg, Arline Lenora b. 16 Aug. 1918 d. 28 June 1929
Kuzara, Dorothy B. b. 18 Feb. 1921 d. 19 Oct. 1992
Kuzara, Henry T. b. 12 Dec. 1916 d. 8 June 1988
Kuzara, Mary Ann b. 18 Mar. 1952 d. 18 Mar. 1952

L

Labrado, Benigna b. 1859 d. 1950

Labrado, Eulogio b. 1843 d. 1938

LaBranch, Bernard E. b. 19 May 1930 d. 14 Aug. 1945

Lacey, Angie A. b. 4 Feb. 1896 d. 7 July 1954

Lackey, James W. b. 1876 d. 1962

Lackey, Sylvia N. b. 1881 d. 1958

LaCoste, Mary Robb d. 23 May 1951 , age 66 years

Ladd, Charles W. b. 1858 d. 1931

LaFlower, Alice Louise b. 30 Mar. 1925 d. 6 June 1946

Laird, Edith J. b. 5 Aug. 1882 d. 20 Sept. 1977

Lamarr, Parr b. 3 July 1926 d. 4 July 1964

Lambert, Lloyd Milton b. 21 Aug. 1907 d. 20 May 1986

Lambert, Minnie Louise b. 18 Feb. 1906 d. 24 May 2001

Lambert, Ruby Ruth b. 12 June 1912 d. 19 Feb. 1924

Lambert, Woodley Spencer b. 15 Oct. 1955 d. 25 July 1990

Lammiman, Fred Arthur b.1883 d. 1957

Lammiman, Jeanenette G. b. 1889 d. 1976

Lanahan, George M. b. 1888 d. 1934

Landa, Dolores b. 6 Oct. 1904 d. 16 Mar. 1986

Landa, Esteban b. 4 Sept. 1889 d. 2 July 1973

Landa, Herman b. 10 Sept. 1929 d. 5 May 1934

Landa, Nick Anthony - 19 February 1969 -

Lane, Andrew L. b. 10 April 1875 d. 13 Feb. 1955

Lane, Esther A. b. 16 Mar. 1886 d. 13 Dec. 1964

Langan, Lucretia b. 1872 d. 1945

Langley , Conseulla W. b. 1911 d. 1949

Langley , Gail Allen b. 8 Dec. 1954 d. 11 Feb. 1955

Langley , Herman b. 15 May 1916 d. 3 June 1927

Langley , Jesse b. 1951 d. 1951

Langley , Josephine b. 16 Sept. 1919 d. 12 Aug. 1925

Langley , Lena A. b. 1881 d. 1966

Langley , Marion J. b. 1879 d. 1953

Lanigar, Ed b. 1891 d. 1964

Lanigar, Elin A. b. 9 Feb. 1884 d. 27 Nov. 1973

Lanigar, Etta B. b. 1889 d. 1925

Lanigar, Freeman b. 1855 d. 1925

Lanigar, H.W. "Wood" b. 28 Dec. 1881 d. 22 May 1971

Lanigar, Ivor E. b. 20 Feb. 1906 d. 23 April 1893

Lanigar, Martha B. b. 1857 d. 1935

Lanigar, Rose Crowley b. 22 Dec. 1894 d. 17 June 1981

Lanigar, Violet I. b. 10 July 1918 d. 2 Mar. 2005

Lasko, ----- -- 1937 --

Law, Linda Marie - 2 May 1945 -

Layton , Mary Presba b. 1886 d. 1952

Lazard, Ronda b. 1959 d. 1959 - no marker

Leavitt, Ada M. b. 1892 d. 1927

Leavitt, George B. b. 1880 d. 1936

Lecumberri , Leon b. 11 April 1885 d. 5 June 1958

LeDou, Barney Nance b. 26 Oct. 1925 d. 18 Mar. 1951

LeDou, Betty J. b. 18 Jan. 1927 d. 7 June 1959

LeDou, James Carl b. 28 Sept. 1998 d. 8 Feb. 1930

Lee, Lillian - 20 August 1922-

Lee, W.J. Spade b. 1883 d. 1939

Leitaker, Ludie M. b. 12 Dec. 1908 d. 25 Sept. 1937

Lengoust, Pierre b. 1897 d. 1965

Leonard, ----- b. 1916 d. 1936

Lewis, Gertrude b. 1890 d. 1953

Lewis, Joseph Weber b. 16 July 1895 d. 23 Sept. 1958

Lewis, Thomas Wesley b. 18 Feb. 1892 d. 9 Mar. 1959

Lewis, Walker Harlan b. 23 April 1889 d. 19 Aug. 1957

Libbee, Marshal A. b. 16 Mar. 1926 d. 21 July 1926

Libbee, Marion F. - no dates

Lilly, Doyle Cline b. 18 Jan. 1927 d. 22 Dec. 1927

Lind, Harry Calvin b. 1 April 1896 d. 1 May 1962

Lindquist, Alma Adele b. 1883 d. 1976

Lindquist, Leonard J. b. 2 May 1892 d. 28 Mar. 1962

Lindquist, Oscar John b. 1873 d. 1943

Linn, Gerald P. b. 20 July 1890 d. 18 Oct. 1956

Linn, Hazel B. b. 2 Feb. 1896 d. 5 Mar. 1983

Little, Henry Dee b. 24 June 1912 d. 28 Oct. 1943

Litts, George W. b. 1860 d. 1929

Livingstone, Stephen H. b. 11 April 1903 d. 10 Nov. 1949

Locke, Mazel - no dates

Lockhart, Harold C. b. 25 Aug. 1893 d. 11 July 1979

Lockhart, Ruth A. b. 4 Feb. 1893 d. 2 April 1979

Logan , Luther B. b. 3 Dec. 1919 d. 20 July 1971

Long, Genevieve S. b. 1884 d. 1967

Long, Gladys H. b. 20 Nov. 1899 d. 23 Oct. 1978

Long, Goddard N. b. 9 Sept. 1905 d. 24 Jan. 1974

Long, Marguerite b. 12 Mar. 1905 d. 7 Dec. 1984

Long, Perle B. b. 7 Nov. 1899 d. 16 Nov. 1950

Long, Richard W. b. 1912 d. 1936

Long, W.O. "Lannie" b. 1881 d. 1957

Losaw, Joseph B. b. 20 May 1898 d. 28 Sept. 1950

Loumena, Jean b. 1876 d. 1956

Louth, O'Niell E. - 1948 - no marker

Lowery, Robert, Jr., - b. 4 Dec. 1912 d. 20 July 1941

Lowry, Edna b. 1885 d. 1949

Lowry, Jess b. 19 Aug. 1909 d. 29 April 1985

Lowry, Robert b. 1878 d, 1851

Luddy, Allen R. b. 3 Sept. 1894 d. 20 April 1963

Luddy, Rufena Marie b. 1 Oct. 1912 d. 29 Nov. 1979

Luker, Annie H. b. 1863 d. 1931

Luker, Earl A. b. 14 Dec. 1888 d. 4 April 1950

Luker, Rodolph L. b. 1851 d. 1943

Lundberg, Carl J. b. 18 Jan. 1905 d. 19 Dec. 1993

Lundberg, Carliene Marie b. 5 Aug. 1944 d. 5 Dec. 1949

Lundberg, Darlene M. b. 17 Mar. 1919 d. 27 May 1992

Lundberg, Hugo D. b. 18 Jan. 1908 d. 19 April 1954

Lunsford, Sidney S. b. 1873 d. 1940

Luther, Florence L. b. 8 Feb. 1902 d. 9 May 1985

Lyle, Ben F. b. 1878 d. 1939

Lytle, Elizabeth b. 30 June 1880 d. 24 Sept. 1960

Lytle, Johnny P. - 24 Nov. 1959 -

M
MacDonald, C.M. b. 1867 d. 1942
MacDonald, Maybelle F. b 1889 d. 1979
Mackey, Edna P. 1 Nov. 1907 d. 27 June 1963
MacWilliams, Richard N. b. 17 Sept. 1887 d. 14 Dec. 1954
Maddron, James L. b. 1870 d. 1923
Maddron, Lawson A. b. 1902 d. 1928
Maddron, Margaret A. b. 1873 d. 1950
Maddron, Thomas D. b. 1915 d. 1928
Madrid , Claro G. b. 31 Oct. 1891 d. 13 April 1941
Madrid , I. Muriel b. 9 Aug. 1894 d. 6 Mar. 1985
Mael, Lester D. b. 18 Oct. 1909 d. 4 Oct. 1958
Magnuson, Carl Iver b. 1890 d. 1976
Magnuson, Mathilda W. b. 1886 d. 1957
Mahan, James H. d. 8 June 1928 - age 71 years
Mahlow, Alta S. b. 20 Mar. 1889 d. 11 Oct. 1966
Mahlow, Martin b. 23 Aug. 1889 d. 26 Aug. 1975
Main , Infant son of Tracy & Ida b. 1936 d. 1936
Makinson, Daniel L. b. 9 July 1958 d. 28 Nov. 1958
Malfa, Anne b. 1916 d. 2000
Malfa, Caterina b. 14 Feb. 1890 d. 24 Feb. 1967
Malfa, John b. 3 Feb. 1874 d. 6 Dec. 1966
Malone, Alice R. b. 1865 d. 1945
Malone, John b. 1870 d. 1942
Mancuso, Carolina b. 1878 d. 1937
Mancuso, Guiseppe b. 8 Mar. 1878 d. 23 May 1960
Mancuso, Maria Teresa b. 19 Sept. 1912 d. 16 June 1923
Manfredini, Emma b. 30 Sept. 1893 d. 28 Sept. 1934 - native of Switzerland
Mansfield , George C. b. 17 Mar. 1895 d. 3 Aug. 1956
Mansfield , John Lewis b. 9 April 1919 d. 18 Dec. 1979
Mansfield , Rowena b. 19 Dec. 1898 d. 7 Mar. 1973
Marden, Romie b. 11 June 1884 d. 5 Dec. 1954
Mari, George P. Jr., b. 15 Oct. 1951 d. 17 Oct. 1951
Markham , W.L. b. 16 May 1911 d. 26 July 1949
Marmo, Ada b. 13 June 1897 d. 17 May 1967
Marmo, Charlie b. 10 Jan. 1885 d. 24 Feb. 1963
Marmo, Dan b. 16 Mar. 1889 d. 15 Sept. 1981
Marmo, Edythe I. b. 30 July 1902 d. 28 Oct. 1970
Maros, James S. b. 1889 d. 1955
Maros, Marie M. b. 1901 d.
Marr, Ida F. b. 17 Feb. 1906 d. 26 Mar. 1967
Marr, Rosalie b. 1857 d. 1942
Marr, Tom b. 1871 d. 1928
Marrison, Gladys B. b. 1 Oct. 1914 d. 11 November 1997
Marrison, Robert L.b. 16 June 1916 d. 13 Dec. 1973
Martial, Arnoux E. b. 23 Dec. 1878 d. 29 Dec. 1953
Martial, Arnoux E. b. 19 June 1929 d. 2 Oct. 2005
Martial, Carol A. b. 6 May 1936
Martial, Donald R. "Johnny" b. 5 Oct. 1936 d. 13 Feb. 1953
Martial, Linda Fay - 29 June 1956 -
Martial, Robert L. b. 23 April 1958 d. 2 Nov. 1973
Martial, Rose Marie b. 19 Feb. 1900 d. 28 Jan. 1956
Martial, Victor John b. 20 Mar. 1931 d. 2 Oct. 2004
Martin, Alice Virginia b. 1896 d. 1979
Martin, Anthony E. "Snooky" b. 1 Dec. 1938 d. 30 April 1944
Martin, April Lynn b. 1962 d. 1962
Martin, Carl B. b. 1886 d. 1965
Martin, Gary Allen b. 20 Mar. 1952 d. 22 Mar. 1952
Martin, George S. b. 1886 d. 1944
Martin, John b. 19 Mar. 1882 d. 27 May 1935
Martin, John J. b. 1889 d. 1951
Martin, Levina E. b. 12 Oct, 1876 d. 24 May 1929
Martin, Vincent E. b. 14 June 1956 d. 14 Mar. 1960
Martinez , Arlene C. b. 21 June 1932 d. 27 Oct. 1995
Martinez , Elisama b. 1907 d. 1954 - native of Pagosa Spring , CO
Martinez , Felipe b. 1 May 1895 d. 23 Feb. 1973
Martinez , Louie b. 1873 d. 1955
Mason, Earl F. b. 17 Jan. 1891 d. 6 Sept. 1977
Mason, Kate M. b. 1900 d. 1935
Mason, Larry G. b. 1935 d. 1935
Mason, Mary b. 1893 d. 1976
Massagli, Rasquale b. 7 Feb. 1884 d. 29 Nov. 1959
Massotti, Cesarina b. 1864 d. 1938
Massotti, Stephen b. 1859 d. 1929
Masten, Marion Olney b. 1858 d. 1932
Masten, Sarah J. b. 1870 d. 1954
Masuero, Adelaide E. b. 1883 d. 1963 - no marker
Mathews, James Earl b. 13 Dec. 1950 d. 16 Dec. 1950
Mathewson, Eva Jane b. 1870 d. 1960
Mathewson, George S. b. 1869 d. 1938
Matkin, John P. b. 1867 d. 1927
Matkin, Maude B. b. 1874 d. 1944
Mauck, John F. b. 7 Aug. 1887 d. 8 Mar. 1961
Maurino, Blanche Marie b. 1927 d. 2002
Maurino, Ester b. 20 Mar. 1900 d. 2 June 1933
Maurino, Frank Paul b. 1920 d. 2001
Maurino, Jack b. 18 Dec. 1894 d. 18 Mar. 1963
Maurino, Peter - no marker
Maxwell, Carl d. 10 April 1930 age 70 years
May, George F. b. 16 Mar. 188 d. 1 June 1948
McAndrews, Fred Gary b. 13 Feb. 1949 d. 13 Feb. 1949
McCafferty, Hugh b. 1865 d. 1946
McCallister, Jane Loueve b. 1913 d. 1981
McCarthy, Maud b. 1876 d. 1943
McCarver , Lydia b. 8 Jan. 1860 d. 25 Feb. 1943
McCauley, Shirley Diane b. 11 May 1949 d. 19 Dec. 1949
McClure, Donald E. b. 6 Oct. 1898 d. 8 Aug. 1959
McClure, Prudence Hylen b. 17 Jan. 1908 d. 24 Oct. 1985
McCue, Bertha M. b. 25 May 1893 d. 14 Dec. 1956
McCune, Patricia I. b. 2 Oct. 1960 d. 18 Nov. 1976
McDaniel, Polk b. 12 Mar. 1871 d. 18 July 1953
McDaniel, William b. 6 Aug. 1864 d. 10 June 1949
McDonald, Ethel Roxanna b. 27 Sept. 1888 d. 7 Jan. 1959
McDonald, Floyd W. d. 3 Dec. 1975 , age 63 years
McDonald, James R. b. 1909 d. 1949
McDonald, John Gary b. 16 July 1947 d. 17 July 1947
McDonald, Robert d. 3 Feb. 1972 age 72 years - no marker
McFall, Robert R. b. 1911 d. 1951
McFarland, Albert Jr. b. 15 July 1940 d. 22 May 1951
McFarland, Albert Jewell b. 1917 d. 1987
McFarland, John b. 1903 d. 1953 - no marker
McFarland, Mary Ellen b. 1919 d. 1974
McGahey. Frank b. 1874 d. 1938
McGary, Kristine - no dates
McGinnis, Mary b. 6 May 1913 d. 14 April 1975
McGuire, Agnes b. 1875 d. 1930
McGuire, Edward E. b. 1863 d. 1940
McIntosh, William A. b. 18 Feb. 1893 d. 22 Jan. 1950
McKay, Albert R. b. 31 Jan. 1908 d. 12 May 1993
McKay, Vera R. b. 24 Mar. 1914 d. 8 July 1976
McKee, Betty Jane b. 26 July 1934 d. 15 Sept. 1936
McKee, Lloyd Wayne b. 30 Aug. 1922 d. 12 May 1958
McKinney , Leon Daniel (infant) - 9 March 1973 - no marker
McKinnon, Emily F. b. 1884 d. 1953
McKinnon, Leo P. b. 1878 d. 1964
McMurphy, Raymond F. b. 7 Sept. 1918 d. 25 June 1989
McNett, Ruby Jean b. 23 Aug. 1930 d. 22 Aug. 1931
McPheeters, Infant son of Joseph R. b. 29 July 1938 d. 30 July 1938
McPheeters, Louise C. b. 24 June 1913 d. 5 Aug. 1938
McQueen, Daniel W. - June 1923 -
McQueen, J. Baker b. 1898 d. 1948
McQueen, Jerry R. b. 28 Dec. 1937 d. 22 Aug. 1990
McVicar, Lyle R. b. 20 April 1908 d. 5 Jan. 1945
Meek, Allie L. b. 30 Aug. 1899 d. 25 Mar. 1984
Meek, Kendall DeWitt b. 2 June 1919 d. 30 Mar. 1961
Meek, Richard DeWitt b. 1889 d. 1957
Mello, Joseph M b. 21 May 1899 d. 11 June 1964
Mello, Mary J. b. 10 June 1912 d. 24 Feb. 1959
Mendiondo, John b. 1882 d. 1959
Menichettie, Philade O. b. 10 June 1879 d. 11 Oct. 1947 - native of Italy
Menth, Fred A. b. 1881 d. 1952
Menth, John F. b. 1885 d. 1963
Menth, Leah C. b. b. 1894 d. 1986
Meredith, Sam b. 1903 d. 1937
Merino, Armando b. 14 Mar. 1918 d. 3 Mar. 1930
Merkley, William S. b. 1927 d. 16 Nov. 1970
Merrill, Mona L. b. 11 Oct. 1918 d. 6 Dec. 1958
Merry, Ella May b. 1879 d. 1946
Merry, W.B. b. 1876 d. 1948
Merton , Georgia A. b. 24 June 1885 d. 7 May 1949
Merton, Gladys W. b. 1910 d. 1933
Merton, Leon G. b. 10 Oct. 1880 d. 10 Dec. 1944
Merton, Philip Scott b. 14 Mar. 1929 d. 9 Mar. 1937
Metcalf, Albert I. b. 6 June 1912 d. 30 Nov. 1989
Metcalf, Emma R. b. 9 July 1910 d.
Metcalfe, Robert H. b. 21 June 1884 d. 2 July 1945
Metz , Fred b. 24 Nov. 1894 d. 23 May 1971
Metz , Lola b. 19 Nov. 1895 d. 7 Jan. 1971
Metz , Rosabell b. 1 Sept. 1917 d. 20 May 1927
Meyer, Alyssa Cheyenne b. 5 Aug. 1989 d. 18 Oct. 1989
Meyer, Joseph b. 16 Mar. 1872 d. 6 Nov. 1949
Meyer, Trevor Colby b. 6 Oct. 1987 d, 16 Dec. 1987
Mickel, Harry b. 1883 d. 1959 - no marker
Micone, Maria Teresea b. 27 Oct. 1871 d. 17 Nov. 1957
Micone, Mary L. b. 13 July 1899 d. 6 Dec. 1974
Micone, Patrick b. 19 Oct. 1900 d. 7 Jan. 1984
Micone, Tony b. 7 July 1876 d. 2 Oct. 1960
Migone, Anciola b. 1879 d. 1934
Migone, Floyd b. 1872 d. 1951
Mikkelsen, Hans b. 24 Dec. 1891 d. 9 April 1959
Miles, Cassie b. 11 Dec. 1886 d. 24 Nov. 1953
Miley, Richard b. 1915 d. 1984
Milinkovich, Gregoria b. 5 Dec. 1922 d. 3 April 1959
Miller, Alfred C. b. 6 Oct. 1886 d. 8 Sept. 1947
Miller, Charles R. b. 14 April 1892 d. 29 Jan. 1950
Miller, Henry Lyman b. 1888 d. 1950 - son of L.H. & M.S.
Miller, John - 5 May 1940 -
Milliken, Robert b. 1878 d. 1947
Milliken, Stella b. 1879 d. 1958
Mills, Charles E. b. 1880 d. 1962
Millsap, Charlie E. b. 1902 d. 1948
Millsap, R.A. b. 1879 d. 1942
Milsap, Edgar R. b. 22 May 1911 d. 8 June 1933
Minor, Ida b. 1874 d. 1956
Mircetich, Jane b. 24 Feb. 1935 d.
Mircetich, John b. 2 Sept. 1926 d.
Misener, J.E. b. 1871 d. 1937
Moak, Julian D. b. 1906 d. 1937
Moak, Louis J. b. 1887 d. 1942
Mooney, Elijah "Lige" Cortez b. 1906 d. 1957
Moore , John H. b. 27 Feb. 1895 d. 24 Nov. 1956
Moore , Margaret b. 12 Feb. 1859 d. 30 Mar. 1929
Morales, Leona Peconum b. 18 May 1900 d. 25 Jan. 1985
Morales, Richard b. 2 Nov. 1933 d. 26 June 1999
Moran, Daniel P. b. 17 Dec. 1892 d. 18 Dec. 1945
Moran, Lily G. b. 3 April _____ d. 30 June 1960
Moreno , Teresa Cathy b. 1948 d. 1952
Morgan, Cecil Ray b. 30 June 1924 d. 30 Aug. 1954
Morgan, Diskie V. b. 1907 d. 1972
Morgan, John C. b. 8 Feb. 1900 d. 6 Sept. 1970
Morgan, John E. b. 1903 d. 1955
Morgan, Rachel A. b. 1868 d. 1941
Morgan, Raymond b. 1930 d. 1952
Morris, Alice b. 1885 d. 1927
Morris, Jessie S. b. 1860 d. 1931
Morris, William M. b. 6 Aug. 1902 d. 24 July 1942
Morrison, Herbert A. - no dates
Morton, Charles B. b. 19 Sept. 1882 d. 27 Nov. 1927
Moss, Nora Faulkner b. 28 Sept. 1886 d. 18 Oct. 1960
Mote, Alen b. 1884 d. 1941
Mott, Emily Bell b. 1877 d. 1957
Mott, Roy Robert b. 1875 d. 1942
Motto , Lydia Anita b. 17 Jan. 1898 d. 31 May 1947
Moyer, Rosetta Ellen b. 1880 d. 1943
Mueller, Ruby B. b. 1901 d. 1942
Munroe, Hansen - August 1977 - (no marker)
Munson, John d. 28 Sept. 1931 - age 60 years
Murer, Christine Farano b. 1918 d. 1953
Murin, Louis F. b. 21 Feb. 1897 d. 24 May 1957
Murin, Mary Ann b. 25 Dec. 1904 d. 21 Sept. 1968
Murrer, Alfred (Baby) b. 6 Jan. 1955 d. 6 Jan. 1952
Murrer, Alfred F. b. 21 July 1914 d. 8 Feb. 1976
Murrer, Edward b. 11 Oct. 1864 d. 24 April 1929
Murrer, Emma Lee b. 25 April 1925 d. 15 April 1999
Murrer, Jake b. 1861 d. 1934
Murrer, Leo Edward b. 9 Nov. 1901 d. 22 Feb. 1964
Murrer, Mary S. b. 26 Oct. 1877 d. 12 Nov. 1964
Murrer, Olive Pearl b. 26 Sept. 1905 d. 14 April 2004
Murillo, Martin b. 1886 d. 1939
Musser, Charolette F. b. 28 Nov. 1855 d. 4 May 1937
Musser, Cyrus J. b. 2 Dec. 1860 d. 12 Oct. 1948
Myers, Frederick B. b. 17 June 1906 d. 17 May 1966

N
Nail, Minnie b. 1880 d. 1958
Nail, William b. 1874 d. 1954
Nance, William D. b. 6 April 1875 d. 27 Dec. 1936
Neal, Annie b. 1908 d. 1981
Neal, Malcom b. 1905 d. 1965
Nebeker, Clara H. b. 4 Sept. 1888 d. 23 Dec. 1979
Nebeker, Royal Gay b. 18 Oct. 1884 d. 14 Dec. 1966
Nedrow, Jesse W. b. 9 July 1906 d. 7 April 1946
Neighbors, Phyllis Fay b. 23 Dec. 1928 d. 2 May 2006
Neipoth, Adam b. 1862 d. 1942
Neipoth, Annie Corder b. 1883 d. 1955
Neipoth, Edward b. 1879 d. 1944
Nelson, Peter A. b. 1849 d. 1923
Nett, Ellen b. 1864 d. 1945
Nett, Frank b. 1859 d. 1939
Nett, Henry Elmer b. 1885 d. 1945
Nett, Leanord LeRoy b. 2 April 1892 d. 29 Sept. 1928
Nett, Mary Erna b. 1898 d. 1986
Neuhause, Flora M. b. 2 Feb. 1889 d.
Neuhause, William H. b. 17 Aug. 1880 d. 17 Aug. 1967
Newell, Walter V. "Jack" b. 1898 d. 1976
Newman, Ferdinand b. 1870 d. 1942
Newman, Jennie L. b. 1874 d. 1957
Newton , Karen Green b. 26 Jan. 1952 d. 19 Jan. 2006
Nicholas, Esther b. 23 Aug. 1917 d. 11 Oct. 2002
Nicholas, Jane Jean - no date
Nicholas, LeGrand b. 23 Aug. 1939 d. 28 Mar. 1959
Nicholas, Oscar b. 14 Feb. 1912 d. 15 April 1992
Nicholl, Arling J b. 21 Jan. 1873 d. 28 Dec. 1941
Nicholl, Edna B. b. 15 Feb. 1885 d. 23 May 1945
Nichols, M. Kimberly b. 8 Oct. 1954 d. 9 Nov. 1954
Nichols, Terry L b. 11 Nov. 1953 d. 12 Nov. 1953
Nichols, Todd Andrew - 9 April 1957 -
Nixon, Frank T. b. 1886 d. 1949
Nixon, Frank Jr. b. 23 April 1925 d. 15 April 1930
Nixon, Mary E. b. 1887 d. 1943
Northcutt, Silas W. b. 1854 d. 1933
Nutting, James A. b. 22 Feb. 1887 d. 23 Jan. 1964
Nutting, Mary F. b. 3 April 1896 d. 11 Nov. 1957
Nye, Clara b. 1897 d. 1979
Nye, Walter Scott b. 1891 - d. 1944

O
Ochotorena, Julio b. 10 Mar. 1930 d. 3 Dec. 1930
Ochotorena, Margarita b. 8 Nov. 1931 d. 15 Sept. 1955
O'Day, Gerald b. 1900 d. 1957
Odette, Charles b. 10 Oct. 1840 d. 26 Dec. 1927
Odette, George b. 1867 d. 1945
Odette, Sarah b. 23 Dec. 1853 d. 27 Aug. 1938
O'Donnell, Esther M. b. 25 June 1941 d. 16 Sept. 1982
Odtte, Mary b. 1844 d. 1925
Oehlcke, Cassie C. b. 1897 d. 1942
Oehlcke, Dick b. 1896 d. 1975
Oehlcke, Elsie R. b. 27 Mar. 1906 d. 20 April 1998
Ogilvie, Gail H. b. 1872 d. 1947
Oldham , W.C. "Ted" b. 8 Feb. 1900 d. 12 June 1975
Olsen, Norabell b. 1898 d. 1953
Olson, Albin b. 7 Oct. 1900 d. 3 May 1958
Olson, Jean A. b. 20 Dec. 1899 d. 18 Dec. 1983
Ormonde, Michael Dennis b. 26 Feb. 1962 d. 27 Feb. 1962
Orradre, Casiano b. 1883 d. 1961
Orradre, Salvadora b. 1885 d. 1933
Orum, Faithe L. b. 1915 d.
Orum, Oswald C. b. 1902 d. 1951
Osa, Ignacio b. 31 July 1889 d. 30 May 1977
Osa, Maria Juana b. 27 May 1896 d. 7 July 1980
Ospital, Batiste b. 5 June 1888 d. 28 Jan. 1972
Oster, Roy b. 1922 d. 1943
Oujada, Anita b. 1895 d. 1941
Ozioidi, Gose - 18 September 1922-

P
Paige, Bruce Gordon b. 21 June 1927 d. 27 April 1954
Paillett, Bernadette b. 5 June 1895 d. 27 July 1993
Paillett, Eillene b. 21 July 1928 d. 25 Feb. 1937
Paillett, Morris b. 10 April 1895 d. 24 Feb. 1971
Paillett, Ruby M. b. 14 May 1926 d.
Pancera, Ruth Dennis b. 22 June 1907 d. 3 May 1998
Paris , Marion E. b. 7 July 1859 d. 19 May 1935
Parisena, Bautista b. 1898 d. 1930 - native of France
Parisena, John S. b. 1902 d. 1945
Parish, Rudolph b. 13 Jan. 1879 d. 17 June 1927
Parisot, August b. 3 Mar. 1897 d. 1 Mar. 1969
Parisot, Ruby b. 11 Feb. 1902 d. 27 Feb. 1937
Parisotto, Pasquale b. 1898 d. 1937
Park, Mary Martha b. 7 Oct. 1903 d. 28 July 1967
Park, Walter M. b. 6 June 1900 d. 15 Mar. 1985
Parks, Joyce b. 1930 d. 1954
Parsons, Wendell Richard - 23 January 1940 -
Pate, William B. b. 7 Aug. 1911 d. 16 July 1959
Patrick, Cecil H. b. 1917 d. 1975
Patterson, Clete Patrick b. 1965 d. 2001
Patterson, Muriel McQueen b. 1924 d. 1987
Pattiani, William Deane b. 17 Feb. 1944 d. 19 Feb. 1944
Paulson, Albert b. 1880 d. 1939
Payne, Ethel Bert b. 6 Dec. 1849 d. 27 Oct. 1930
Payne, Velma Ruth b. 11 Oct. 1912 d. 16 Nov. 1997
Peck, Clara E. b. 1892 d. 1954
Peconum, George b. 1877 d. 1972
Peconum, Frank b. 1891 d. 1932
Peconum, Ida b. 1864 d. 1956
Peconum, Roxie Yuanna b. 1851 d. 1958
Pena, Juanita b. 25 Mar. 1923 d. 11 Mar. 1999
Pena, Paula Maria - 27 February 1956 -
Pena, Ramon L. b. 9 July 1923 d. 30 May 1988
Pence, George E. b. 11 Aug. 1903 d. 24 May 1958
Pence, Robert "Fred" b. 1 Nov. 1935 d. 26 Aug. 2004
Pence, Thelma P. b. 10 Oct. 1903 d. 12 Sept. 1999
Penning, August b. 1852 d. 1936
Penning, Fred P. b. 18 Mar. 1894 d. 3 April 1934
Penning, Katie b. 1863 d. 1938
Penning, Martin A. b. 21 Dec. 1890 d. 23 Jan. 1967
Perez, Andrea b. 1877 d. 1938
Perez, Angel b. 2 Aug. 1882 d. 27 Oct. 1967
Perez, Asuncion b. 15 Aug. 1852 d. 2 Dec. 1930 - native of Mexico
Perez, Augustin b. 1896 d. 1959
Perez, Edubijan b. 1901 d. 1940
Perez, Fernando b. 1870 d. 1934 - native of Mexico
Perez, Irene b. 14 Feb. 1915 d. 1 Dec. 1936
Perez, Maria E. b. 21 June 1900 d. 22 July 1979
Perfetto, Michele b. 25 Mar. 1893 d. 23 April 1924 - native of Italy
Peri, Eugene Alfred b. 1 June 1917 d. 5 Aug. 1997
Peri, Fred T. b. 7 Nov. 1883 d. 25 Jan. 1938
Peri, Mary A. b. 15 Sept. 1886 d. 5 Sept. 1969
Perkins, John R. b. 28 Mar. 1895 d. 12 Dec. 1955
Perkins, Lee b. 1880 d.
Perkins, Lura b. 1888 d. 1939
Perry, Frank Raymond b. 19 Mar. 1888 d. 16 Oct. 1963
Peters, Jack d. 10 Mar. 1944 , age 87 years - no marker
Petersen, Anna b. 3 Jan. 1870 d. 30 April 1948
Petersen, Henry b. 1851 d. 1928 - native of Germany
Petersen, John P. b. 3 May 1855 d. 19 Feb. 1942
Peterson, Ed b. 1869 d. 1950
Peterson, Jacob b. 1865 d. 1939
Peterson, Peter b. 16 Aug. 1913 d. 25 Dec. 1961
Pettis, Ruth G. b. 1883 d. 1953
Pettis, Ruth R. b. 15 Aug. 1889 d. 17 Dec. 1959
Phelps, Jacob L. b. 1882 d. 1944
Phelps Twins b. 30 May 1943 d. 30 May 1943
Piccinini, Aurora V. Sorrells b. 1905 d. 1951
Pimental, Joe Tony b. 31 Oct. 1934 d. 10 May 1955
Pimental, Louis S. b. 23 Feb. 1916 d. 26 Mar. 1945
Pinamonti, Albino J. b. 1885 d. 1948
Pinamonti, Leopolda b. 1887 d. 1956
Pinneo, Oscar E. b. 24 Mar. 1893 d. 3 Dec. 1932
Piperio, Fred b. 1897 d. 1956
Pippin, Kathleen Busby b. 23 Jan. 1926 d. 8 June 1966
Pitkin, Frederick J. b. 17 Mar. 1891 d. 30 Dec. 1940
Plowfield, Bell C. b. 1877 d. 1933
Poindexter, ----- - no dates (no marker)
Poindexter, James Y. b. 5 June 1892 d. 20 Dec. 1956
Poindexter, Kitty - no dates (no marker)
Polit, Charlie b. 4 May 1936 d. 17 Sept. 1937
Pollard, Benjamin A. b. 26 Mar. 1921 d. 11 April 1934
Pollard, Fanny C. b. 8 May 1884 d. 25 June 1967
Pollard, Martin E. b. 20 Aug. 1913 d. 16 Jan. 1962 - native of Florida
Pollard, Silas A. b. 27 Dec. 1875 d. 3 July 1955
Pollard, Thelma Louise Annette b. 1924 d. 2004
Porter, Gloria Lucero b. 13 Oct. 1932 d. 7 Dec. 2001
Porter, Irene Greenwood b. 24 April 1899 d. 5 Mar. 1983
Porter, Ned Guy b. 13 Dec. 1929 d.
Porter, William Boyd b. 22 Sept. 1922 d. 20 Aug. 1945
Porter, William Guy b. 11 Aug. 1892 d. 29 Mar. 1981
Potorf, Elsie M. b. 12 Aug. 1898 d. 19 May 1993
Potorf, Frank b. 23 May 1904 d. 16 Mar. 1951
Potter, Ella Lee b. 1879 d. 1958
Poulsen, Elida C. b. 12 May 1881 d. 23 Feb. 1929 - wife of Peter F.
Pratt, George b. 14 June 1865 d. 14 Feb. 1934
Pratt , Victoria B. b. 23 Oct. 1873 d. 14 Aug. 1955
Preciado, Christobal b. 31 July 1867 d. 4 April 1949
Preciado, Isabel M. b. 5 Nov. 1883 d. 25 Feb. 1968
Presba, Shirburn X. b. 1877 d. 1955
Preston , Herbert M. b. 26 July 1956 f. 26 Aug. 1993
Price, Ira E. (Rev.) - b. 1866 d. 1924
Price, Jack Nelson b. 1906 d. 1953
Price, Lillian Tessie b. 1922 d. 1966
Price, Mary Ethel b. 28 June 1879 d. 23 May 1970
Proctor, Freda b. 1931 d. 1991
Proctor, Leland C. b. 1894 d. 1959
Proctor, Melvin C. b. 26 July 1919 d. 12 Oct. 1989
Proctor, Pauline A. d. 15 April 1977 - age 55 years - no marker
Proctor, William A. b. 9 Sept. 1887 d. 12 Jan. 1954
Proffitt, D. Richard b. 22 Dec. 1928 d. 25 Oct. 1947
Proffitt, David R. b. 1874 d. 1940
Proffitt, David Roy b. 22 July 1946 d. 23 Oct. 1963
Proffitt, Edna B. b. 1889 d. 1968
Proffit, James M. b. 24 Sept. 1920 d. 15 Feb. 1979
Proffit, Virginia R. b. 28 Nov. 1917 d.
Prunty, Jessie L. b. 24 Oct. 1896 d. 19 Jan. 1967
Prunty, Lewis B. 15 Nov. 1886 d. 15 May 1968
Pyeatt, Frank b. 1871 d. 1950
Pyeatt, Lou b. 1877 d. 1937

Q
Quadrio, Aurora D. b. 2 Oct. 1925 d.
Quadrio, William Dom b. 18 Feb. 1917 d. 1 Dec. 1995

R
Rager, Charles B. b. 9 July 1892 d. 16 June 1968
Rager, Ila M. b. 1891 d. 1935
Rager, Mary Ellen - 12 January 1954 -
Raiter, Mark S. b. 9 Aug. 1948 d. Nov. 1973
Raker, Merrill Fairfield b. 12 Jan. 1911 d. 25 Oct. 1991
Raker, Royce Alton b. 21 May 1894 d. 8 Nov. 1981
Raker, Vinton L. b. 25 July 1942 d. 21 May 1944
Ramey, Daniel R. b. 8 Oct. 1892 d. 17 Jan. 1960
Ramey, Daniel R. Jr. b. 9 Feb. 1925 d. 31 Mar. 1977
Ramey, Lizzie Ellen b. 24 Jan. 1910 d. 9 Nov. 1968
Ramey, Mary E. b. 12 Feb. 1896 d. 3 Nov. 1984
Ramoni, Louie P. b. 23 Feb. 1897 d. 11 Dec. 1966
Ramos, M. - no dates - no marker
Ramser, Ernest E. b. 18912 d. 1930
Ramsey, DeForest A. b. 8 Nov. 1907 d. 19 Mar. 1970
Ramsey, Ila May b. 4 Mar. 1907 d. 13 Jan. 2005
Randall, Bruce H. b. 18 May 1953 d. 22 Aug. 1971
Ranney, Elizabeth b. 1893 d. 1984
Ranney, Jess J. b. 1889 d. 1954
Ravenscroft, William J. "Billy" b. 24 April 1899 d. 18 July 1961
Ray, Viola Elmira b. 10 Nov. 1898 d. 22 June 1974
Raymond, Mason Fred b. 16 May 1883 d. 8 Dec. 1946
Read, John B. - no dates - no marker
Reazin, Wesley P. d. 18 August 1977 , age 46 years - no marker
Redden, August M. b. 13 Aug. 1894 d. 3 Dec. 1938
Reed, Charles A. b. 12 Aug. 187 d. 11 Sept. 1955
Reed, Emma R. b. 7 May 1882 d. 2 Mar. 1971
Reed, Russell J. b. 19 Nov. 1905 d. 1 Aug. 1985
Reed, Ruth C. b. 23 Sept. 1912 d. 16 July 1971
Reed, William R. b. 3 Dec. 1970 d. 4 Feb. 1971
Reeves, William E. b. 1902 d. 1954
Reitnaer, Jamey - 5 March 1976 - no marker
Renick, A. -1928 -
Renton , Dawn A. b. 13 Oct. 1959 d. 14 Oct. 1959
Renton , Donald A. Jr. b. 3 Mar. 1961 d. 9 May 1961
Reuter, Peter b. 19 May 1886 d. 17 Feb. 1941
Reynolds, James J. b. 28 April 1876 d. 15 Aug. 1966
Reynolds, Major M. b. 1896 d. 1959
Reynolds, Rose Ann b. 4 Dec. 1883 d. 4 Dec. 1956
Rhea, Dollie D. b. 19 Mar. 1890 d. 12 Jan. 1973
Rhea, Everett D. b. 17 Aug. 1918 d. 6 Jan. 2000
Rhea, Faye Rene b. 24 Oct. 1922 d. 8 Aug. 1998
Rhea, Guy H. b. 18 July 1895 d. 25 Dec. 1971
Rhodes , Charles b. 1860 d. 1929
Rhodes , Dorothy K. b. 29 Dec. 1926 d. 7 July 1957
Rhodes , Levoy b. 18 Nov. 1910 d. 7 July 1957
Rice, Eugene b. 7 Oct. 1950 d. 8 Oct. 1950
Rice, Herbert Newton b. 9 Nov. 1891 d. 23 Dec. 1944
Rice, Jennifer Lynn (baby - 7 Jan. 1984 -
Richards, David J. b. 30 May 1942 d. 5 Nov. 1957
Richards, Elton L. b. 1917 d. 1944
Richards, Jack "Rich" b. 29 Dec. 1916 d. 15 Dec. 1977
Richards, Marie b. 16 March 1917 d.
Richardson , Epp b. 15 Feb. 1890 d. 22 July 1966
Ridings, Eva b. 1917 d. 1979
Riesenman, J. St. Clair b. 1888 d. 1927
Riley, Alvin b. 1898 d. 1928
Riley, Emily Alice b. 11 April 1866 d. 21 Oct. 1929
Riley, Ivell Simmerson Henrici b. 6 Nov. 1897 d. 10 Sept. 1994
Riley, James b. 14 June 1857 d. 11 Aug. 1940
Riley, Katie b. 21 Feb. 1905 d. 17 Feb. 1924
Rippetoe, James F. b. 6 Oct. 1939 d. 25 Aug. 1940
Rippetoe, John A. b. 1 May 1908 d. 17 Aug. 1957
Rippetoe, Manda C. b. 1 Feb. 1886 d. 1 Aug. 1951
Rippetoe, Sam A. b. 18 Feb. 1883 d. 22 April 1971
Rippetoe, Stella L. b. 7 April 1913 d. 28 June 1992
Rizzo, Giuseppe d. 18 Feb. 1950 age 79 years - no marker
Rizzo, Katherine Alosi b. 25 June 1891 d. 15 Jan. 1982
Roberts, Bernie M. b. 3 Feb. 1923 d. 14 Dec. 1996
Roberts, Frederick A. b. 1906 d. 1943
Roberts, Frederick Albert b. 27 Nov. 1931 d. 17 June 1979
Roberts, Patricia Dooley b. 26 Aug. 1933 d. 9 Feb. 2000
Roberts, Mary Lewis b. 19 Jan. 1924 d.
Robertson, Frank b. 4 June 1871 d. 4 June 1946
Robles, Ignacio b. 2 Aug. 1902 d. 23 Mar. 1992
Robles, Rosario b. 2 Oct. 1906 d. 14 Aug. 1890
Rodriguez, Beatriz Medina b. 28 Aug. 1883 d. 13 Feb. 1950
Rodriguez, Filo M. b. 1 May 1925 d. 22 June 1947
Rodriguez, Henry Charles - 15 February 1949 -
Rodriguez, Sam M. b. 25 April 1917 d. 23 Mar. 1990
Romero, Cornelia b. 15 Sept. 1857 d. 15 Nov. 1930
Rose, Hale William b. 7 April 1896 d. 1 Aug. 1954
Ross, Elsie V. b. 5 Nov. 1898 d. 12 June 1985
Ross, Ernest A. b. 28 May 1894 d. 1 April 1964
Ross, Harland E. b. 1884 d. 1954
Ross, Mary J. b. 1925 d. 1964
Ross, Pearl R. b. 1896 d. 1983
Rosso, Frank b. 1884 d. 1963
Roth, Anetta Devine b. 1879 d. 1947
Roux, Joachim b. 1887 d. 1949
Ruane, John b. 1888 d. 1942
Rubio, Vincente E. b. 1905 d. 1941 - native of Artabia , Spain
Rush, Eunice - no dates
Rush, Henry b. 1897 d. 1958
Rush, Rue b. 3 Sept. 1892 d. 2 Sept. 1958
Russell, Deborah Sue - 6 December 1955 -
Russell, John C. b. 1878 d. 1943
Rust, James H. b. 26 Oct. 1883 d. 5 Sept. 1938
Ryan, Harry W. "Curly" b. 6 Aug. 1883 d. 3 Mar. 1960

S
Saborido, John b. 1878 d. 1937 - native of Spain
Sailors, Charles W. b. 4 May 1896 d. 6 Feb. 1956
Salas, Luis b. 12 Dec. 1913 d. 4 Sept. 1950
Salinas, Charlie L. d. 17 July 1923 , age 12Y 6M 11D
Salindo, Josephina V. b. 11 Aug. 1923 d. 20 Mar. 1924
Sancha, Ciriaco b. 1885 d. 1950 - native of Spain - no marker
Sanchez, Antoine b. 12 May 1889 d. 18 Feb. 1956
Sanchez, Hazel K. b. 1888 d. 1975
Sanchez, Henri A. b. 27 Nov. 1921 d.
Sanchez, Joe A. b. 1886 d. 1951
Sanchez, Marie b. 12 Oct. 1892 d. 9 April 1963
Sanchez, Pearl Mae b. 4 May 1919 d. 3 Oct. 1975
Sanchez, Raymond b. 3 July 1935 d. 18 July 1983
Sanders, Joy b. 26 Dec. 1940 d. 26 Oct. 1943
Sarrazin, Emil b. 6 Sept. 1901 d. 22 Oct. 1952
Satica, Albert b. 1922 d. 1923
Satica, Benito A. b. 15 Dec. 1915 d. 12 Aug. 1998
Satica, Bernardina b. 1885 d. 1964
Satica, Fernanda b. 1894 d. 1966
Satica, Frank Albert b. 20 Mar. 1922 d. 23 Feb. 1982
Satica, Miguel "Mike" Jr. b. 8 August 1916 d. 30 Mar. 1956
Satica, Mike b. 1891 d. 1954
Satica, Robert b. 1877 d. 1949
Satica, Robert John b. 4 Dec. 1914 d. 19 Nov. 2001
Sauntry, Edward H. b. 3 Mar. 1932 d. 9 July 1949
Scanlon, Mary E. b. 22 Sept. 1883 d. 15 July 1959
Scanlon, Norma E. b. 26 July 1902 d. 17 Nov. 1986
Scanlon, Ona Ruth b. 2 Dec. 1902 d. 19 July 1984
Scanlon, William J. b. 29 Oct. 1878 d. 10 Jan. 1934
Schafer, Henry V. b, 11 Aug. 1954 d. 8 Feb, 1955
Schaibley, Jill Denis b. 31 Aug. 1955 d. 21 Dec. 1956
Scheinkoenig, Carl Matt b. 18 Dec. 1893 d. 14 Aug. 1975
Scheinkoenig, Isabel G. b. 26 Mar. 1901 d.
Schuler, Adolph b. 1851 d. 1927
Schultz, Anna M. b. 18 May 1889 d. 10 Feb. 1923
Scott, Carl Glenn b. 15 Oct. 1910 d. 4 Mar. 1952
Scott, Donald Eugene b. 1 Aug. 1926 d. 2 Oct. 1927
Scott, Gladys C. b. 22 June 1905 d. 31 May 2003
Scott, Howard A. b. 17 July 1903 d. 28 Dec. 1997
Scott, Mecia A. b. 1887 d. 1951
Scott, Raymond A. b. 9 Jan. 1909 d. 30 Aug. 1995
Search, Ronald Lee - 1928 -
Searle, Charles O. b. 1863 d. 1940
Sebern, Harve b. 1862 d. 1945
Sehorn, Edna Grace b. 1890 d. 1953
Sehorn, Leslie Almon b. 1889 d. 1957
Selby, Emma E. b. 1884 d. 1947
Selby, Thomas b. 1881 d. 1957
Self, Amos J. b. 15 July 1882 d. 26 June 1952
Self, Robert A. b. 20 April 1910 d. 20 Mar. 1944
Self, Tommie b. 5 Sept. 1937 d. 5 Aug. 1938
Self, Viola M. b. 23 Aug. 1888 d. 6 Oct. 1971
Sella, Aldo b. 19 Sept. 1927 d. 31 Dec. 1928
Sella, Ancilla b. 28 Mar. 1904 d. 23 Dec. 1989
Sella, Harry E. b. 16 May 1895 d. 25 June 1955
Shadel, Lee - no dates - no marker
Sharon, Henry - no dates - no marker
Sharon , Katherine McDonald b. 1872 d. 1941
Sharp, Margaret Madeline b. 4 Dec. 1921 d.
Shelley, John Abijah b. 1872 d. 1949
Shelton , Leo Edward b. 22 Oct. 1892 d. 23 Jan. 1944
Shephard, Anna Adams b. 9 April 1834 d. 11 Jan. 1929 - native of Illinois
Shidler, Lastaca O. b. 27 Aug. 1889 d. 7 Jan. 1929
Shields, Louise M. b. 2 Jan. 1918 d. 30 Oct. 1976
Shinn, Orlow b. 1911 d. 1937 - native of Lassen County
Shirley, Eugene Lee - 5 Oct. 1952 - stillborn
Shirley, Joseph Allen - 27 Dec. 1953 - stillborn
Shirley, Patsy Darlene - 29 Sept. 1955 - stillborn
Shirley, Peggy Dean - 29 Sept. 1955 - stillborn
Shirtz, Charles H. b. 1878 d. 1954
Shofner, Bernys b. 1 March 1930 d. 9 Feb. 1993
Shofner, Hazel b. 23 July 1898 d. 8 July 1997
Shofner, Hobert b. 21 April 1897 d. 30 Sept. 1956
Shrader, Rosa Bell b. 1876 d. 1954
Shrode, Cicily E. b. 1850 d. 1934
Shuckis, Ramona Coffin b. 6 July 1910 d. 14 Jan. 1989
Sigg, Jean J. b. 19 April 1897 d. 1 Oct. 1973
Silva, Paul b. 15 May 1904 d. 25 Dec. 1958
Silva, Peter b. 17 Mar. 1943 d. 29 Jan. 1963
Silva, Philomena b. 18 May 1913 d. 14 May 2001
Silzell, George b. 2 Sept. 1896 d. 21 Mar. 1969
Silzell, Ruth Marie b. 19 Jan. 1893 d. 28 Jan. 1954
Simon, Bertha F. b. 1900 d. 1945
Simonson, Andrew G. b. 1902 d. 1954
Simonson, Gladys L. b. 1903 d. 1955
Skattum, Iver R. b. 27 Sept. 1901 d. 23 July 1956
Slater, Edwin b. 4 June 1895 d. 3 Dec. 1936
Slater, Ellis R. b. 1911 d. 1938
Slater, Hattie b. 1875 d. 1950
Slater, Rena J. b. 14 Jan. 1909 d. 26 Mar. 1929
Slaughter, Baby - 15 Feb. 1924-
Slinger, Albert b. 1875 d. 1931
Slingerland, Eliza Ann b. 1893 d. 1960
Slingerland, Walter E. b. 23 July 1895 d. 10 Feb. 1951
Sloan, Edith Bennett b. 31 Oct. 1915 d. 21 June 2000
Sloan, John b. 25 Nov. 1901 d. 20 Nov. 1985
Sloan, Lillian S. b. 29 June 1892 d. 18 July 1952
Small, Cora M. b. 1885 d. 1971
Small, James G. b. 1871 d. 1952
Smith, Barton William b. 28 Aug. 1877 d. 9 May 1952 - native of Oregon
Smith, Catherine b. 1866 d. 1949
Smith, Charles S. b. 1867 d. 1949
Smith, Donald Keith b. 1954 d. 1955
Smith, Edmond L. b. 9 Nov. 1908 d. 11 Dec. 1975
Smith, Ernest W. b. 1885 d. 1949
Smith, Finnis Leroy b. 28 Sept. 1928 d. 22 Sept. 1961
Smith, Floyd A. b. 1907 d. 1962
Smith, Gerald A. b. 9 Mar. 1891 d. 21 Nov. 1945
Smith, George Ernest b. 8 Feb. 1919 d. 17 Mar. 1967
Smith, Helen E. b. 15 April 1910 d. 30 June 1999
Smith, Karen Margaret b. 1955 d. 1955
Smith, Kenneth - 29 October 1948 -
Smith, Laura M. b. 1888 d. 1985
Smith, Lillian L. b. 1899 d. 1985
Smith, Mary Janette b. 1870 d. 1953 - wife of Peter H. Olsen
Smith, Rose Ann b. 29 Aug. 1896 d. 23 June 1931
Smith, Sarah A. b. 1850 d. 1931
Smith, Sidney C. b. 1886 d. 1959
Smith, William W. b. 1896 d. 1955
Snell, Patricia A. b. 20 Sept. 1932 d. 21 June 1936
Snyder, Beulah Leavitt b. 2 June 1909 d. 31 May 1987
Snyder, Jack H. b. 6 Dec. 1904 d. 10 Aug. 1929
Snyder, Joel T. Jr. - 31 August 1935 -
Snyder, Maud Newman b. 1906 d. 1932
Sobrero, Ernest E. b. 1914 d. 1939
Solie, Annie B. b. 21 Aug. 1856 d. 17 Jan. 1932
Soloaga, Francisco b. 10 Sept. 1919 d. 17 Nov. 1957
Soloaga, Johnny b. 10 Jan. 1922 d. 11 Dec. 1938
Soloaga, Juan Baustista b. 26 Dec. 1882 d. 29 Sept. 1973
Soloaga, Martina Ytuarte b. 5 May 1890 d. 20 April 1970
Sorsoli, George W. b. 22 Feb. 1902 d. 11 May 1968
Sorsoli, Frank b. 1864 d. 1938
Sorsoli, Jessie b. 1870 d. 1952
Sorsoli, Josephine E. b. 12 Sept. 1909 d. 12 Sept. 1972
Spalding, Allen Christy b. 30 June 1899 d. 6 June 1991
Spalding, Doris Naomi b. 28 Mar. 1907 d. 25 May 2004
Spalding, Ernest Y b. 1907 d. 1948
Spalding, Hazel L. b. 15 May 1885 d. 2 Oct. 1970
Spalding, Luena Julia L. b. 17 Sept. 1910 d. 1 April 1953
Spalding, Mabel Violet b. 1 Aug. 1905 d. 16 July 1946
Spalding, Nelmer O. b. 1909 d. 1962
Spalding, Nelmer P. b. 27 Jan. 1937 d. 24 Oct. 2003
Spalding, Norman Dean b. 3 June 1939 d. 18 May 1954
Spalding, William J. b. 21 Nov. 1887 d. 3 Nov. 1964
Spasaro, Antonio b. 24 Dec. 1866 d. 18 Jan. 1929
Spears, Anna L. b. 1939 d. 1976
Speegar, George d. 24 Feb. 1970 age 86 years - no marker
Spencer, Carolyn Jean b. 28 May 1944 d. 18 June 1944
Spencer, Donnie b. 8 June 1936 d. 27 June 1936
Spencer, Sherrill Freelan - 3 March 1942 -
Spring, Ellen Thomson b. 28 April 1867 d. 8 June 1962
Spring, Frank DeWitt b. 14 Nov. 1854 d. 16 June 1927
Squyres, Dee O. b. 8 June 1898 d. 3 Aug. 1990
Squyres, Hugh C. b. 9 April 1894 d. 4 Nov. 1958
Stampfli, Arthur M. b. 12 April 1892 d. 20 July 1953
Stampfli, Clarence T. b. 28 Feb. 1925 d. 19 Oct. 1965
Stampfli, Madeline J. b. 19 May 1928 d. 27 June 1994
Stampfli, Ted A. b. 29 Aug. 1947 d. 27 Feb. 1968
Standard Melva L. b. April 1902 d. June 1988
Standard, William Alan b. 1900 d. 1962
Stanisloa, Joe M. b. 1894 d. 1969
Stansbury, Alex B. b. 12 Jan. 1871 d. 4 Feb. 1951
Stansbury, Ida C. b. 8 April 1973 d. 23 April 1956
Starr, H.M. "Dadd" b. 30 July 1866 d. 3 May 1961
Stauffer, Arthur Freeland b. 26 Nov. 1856 d. 4 Jan. 1952
Stempel, Terry Lee - 10 November 1953 - no marker
Stewart, Blanche S. b. 1900 d. 1960
Stewart, Ethel G. b. 25 Dec. 1901 d. 3 July 1977
Stewart, Georgina Knight b. 21 July 1915 d. 21 Mar. 2000
Stewart, Gladys T. b. 1891 d. 1952
Stewart, Grace E. b. 1886 d. 1951
Stewart, Harry E. b. 1898 d. 1982
Stewart, Hewitt N. b. 15 April 1903 d. 6 Jan. 1985
Stewart, John b. 1880 d. 1956
Stewart, Mark C. b. 1876 d. 1964
Stewart, Matilda E. b. 1879 d. 1954
Stewart, Patrick Thomas b. 20 May 1937 d. 16 Aug. 1954
Stewart, Richard H. b. 1931 d. 1953
Stewart, William b. 1888 d. 1952
Stickley, Infant - 25 June 1936 -
Stickley, Raymond J. b. 28 Dec. 1940 d. 4 Jan. 1941
Stimelski, Jack J. b. 5 Aug. 1930 d. 18 Jan. 1974
Stone, Albert C. b. 16 Mar. 1906 d. 2 Mar. 1976
Stone, Donald Francis b. 30 July 1932 d. 9 Sept. 1932
Stone, infant boy b. 29 Mar. 1938 d. 30 Mar. 1938 - son of A. & G.
Stone, infant girl b. 3 Feb. 1931 d. 4 Feb. 1931 - daughter of A & G.
Stone, Joseph Albert b. 7 June 1889 d. 20 Aug. 1943 - native of Shasta County
Stone, Laura Ellen b. 25 Sept. 1883 d. 19 Mar. 1972
Stone, Lester Hall b. 6 April 1916 d. 4 Sept. 1989
Stone, Myron C. b. 13 April 1923 d. 20 Dec. 1976
Stone, Richard S. b. 7 Dec. 1911 d. 19 Jan. 1962
Stone, Tommy b. 6 Mar. 1914 d. 30 Sept. 1932
Stone, Willis Coit b. 12 April 1882 d. 7 Dec. 1959
Stonecoal, Edward b. 1896 d. 1935
Stonecoal, Kate - 3 August 1945 -
Stout, David Benson (Infant) - 3 June 1949 -
Stout, Stanley R. b. 1960 d. 1960
Streater, Thomas Albert b. 31 Mar. 1891 d. 3 May 1953
Streshly, Donald F. b. 15 May 1913 d. 24 July 1957
Sullivan, T.J. "Sully" b. 1877 d. 1952
Summers, John b. 8 July 1886 d. 14 Dec. 1962
Surrett, Harley A. b. 26 May 1913 d. 13 Feb. 1976
Sutton, Esther S. b. 1906 d. 1998
Sutton, Samuel E. b. 1903 d. 1978
Swanson, Frank A. b. 2 Nov. 1893 d. 25 Nov. 1980

T
Tafoya, Antonio - d. 2 Oct. 1974 , age 72 years - no marker
Talbott, Earnest Paul b. 29 Sept. 1930 d. 27 Sept. 1951
Tallant, Allen b. 19 Mar. 1875 d. 11 Feb. 1950
Tallant, Cecilia Irene b. 19 May 1879 d. 4 Sept. 1945
Tallerico, Rose Piperio b. 1908 d. 1993
Tanner, Lola L. b. 11 Sept. 1899 d. 6 Feb. 1973
Tarry, Etta M. b. 1886 d. 1975
Tarry, Lester Arthur b. 1888 d. 1951
Taylor , Bertha A. b. 26 Mar. 1876 d. 20 Jan. 1955
Taylor, Kathleen V. b. 28 Nov. 1905 d. 20 July 1996
Taylor , Oscar R. b. 1 April 1906 d. 15 Aug. 1954
Taylor, Robert V. b. 2 Mar. 1946 d.
Taylor , Ronald Elroy b. 29 Nov. 1940 d. 1 April 1955
Taylor , Vernon D. b. 26 Jan. 1912 d. 13 Dec. 1975
Thomas, Dewey A. b. 30 July 1900 d. 15 July 1980
Thomas, Dicey J. b. 22 July 1907 d. 11 Oct. 1997
Thomas, Frederick S. b. June 1924 d. Mar. 1932
Thomas, Harrison N. b. 29 Aug. 1923 d. 4 June 1944
Thomas, Leola Fern b. 25 Sept. 1926 d. 11 April 1930
Thomas, Louis F. b. 1867 d. 1940
Thomas, Mattie b. 1885 d. 1965
Thomas, Samuel S. b. 8 Sept. 1889 d. 2 April 1970
Thomas, Sylvia J. b. 7 Aug. 1905 d. 2 Oct. 1988
Thomas, William Arlie b. 8 Nov. 1924 d. 20 Nov. 1943
Thompson, Charles b. 30 May 1890 d. 12 Sept. 1966
Thompson, Douglas Earl b. 22 Feb. 1972 d. 25 Feb. 2005
Thompson, Harold D. b. 31 Mar. 1929 d. 1 Sept. 1950
Thompson, Roberta b. 5 Aug. 1899 d. 12 Sept. 1966
Thompson, Stafford S. b. 1 May 1878 d. 17 Oct. 1930
Thorburn, Alexander b. 25 Sept. 1877 d. 20 Aug. 1957
Thorburn, Elsie L.b. 1885 d. 1960
Thornhill, W.H. b. 1900 d. 1961
Thornton , Wesley J. b. 6 Sept. 1911 d. 4 Feb. 1955
Thurtchley, Dora E. b. 1884 d. 1955
Thurtchley, William A. b. 1873 d. 1951
Tilton, Jean "Shirley" b. 3 April 1887 d. 19 Feb. 1954
Tinsley, Art b. 1912 d. 1990
Tinsley, Lena Workman b. 23 Mar. 1910 d. 27 Sept. 1996
Toliver, Vido - 25 June 1967 - no marker
Tonin, Frank "Tony" b. 1903 d. 1955
Tonin, Louise A. b. 1901 d. 1961
Tremblay, Matilda R. b. 9 June 1877 d. 24 June 1938
Trichler, Rudolph b. 1894 d. 1932
Trumbull , Grant A. b. 1868 d. 1952
Trumbull , Justine b. 17 May 1914 d. 7 Oct. 1948
Trumbull , Lauretta b. 1870 d. 1952
Tucker, Eve Long b. 21 Mar. 1861 d. 1 June 1947
Tucker, Gordon J. b. 3 Feb. 1908 d. 21 April 1947
Tucker, Paul F. (infant) - 27 December 1943 -
Tucker, R.B. b. 1861 d. 1937
Turner, Harry E. b. 1880 d. 1942
Turner, Lulu B. b. 1 July 1883 d. 3 Oct. 1954
Turning, Leona Mary Park b. 18 Jan. 1925 d. 1 July 1944

U
Ulch, C. Rodgers b. 1907 d. 1975
Ulch, Charles C. b. 1881 d. 1939
Ulch, Daniel H. b. 1915 d. 1936
Ulch, Emma Loueve b. 1884 d. 1966
Ulch, Helen Selena b. 1921 d. 1989
Ulch, I. Claire b. 1909 d. 1952
Ulch, Millard W. b. 1911 d. 1982
Uribe, Jose Duenas b. 28 Sept. 1881 d. 29 Mar. 1956
Uribe, Manuel b. 28 June 1926 d. 16 Sept. 1928 - no marker
Uribe, Rose O'Day b. 4 Nov. 1900 d. 26 Feb. 1950
Urionaguena, Catherine "Ferne" b. 11 Aug. 1957 d. 30 Oct. 2002
Urionaguena, Clara b. 3 Aug. 1905 d. 30 Sept. 1990
Urionaguena, Jess b. 31 July 1932 d. 30 April 1996
Urionaguena, Victor b. 8 Mar. 1897 d. 7 Jan. 1956
Uruburu, Jose B. b. 1888 d. 1952
Uruburu, Maiya b. 1902 d. 1995

V
Vallejo , Ladislao "Sal" b. 27 June 1885 d. 10 Dec. 1979
Vallejo , Lupe Preciado b. 10 Feb. 1904 d. 14 May 1989
Vance, Gordon B. Jr. b. 1931 d. 1952
Vandeburgh, Jerry b. 1877 d 1940
Vandeburgh, Nancy Luella b. 30 July 1930 d. 20 Dec. 1930
Vandeburgh, Peter b. 21 Mar. 1877 d. 4 Aug. 1932
Vandeburgh, Violet b. 23 May 1883 d. 4 April 1955
Van Galder, Larry Lee b. 25 Mar. 1941 d. 17 Feb. 1944
Vasquez, Anselma A. b. 1884 d. 1944
Vasquez, Antonio V. "Big Tony" b. 1896 d. 1973
Vasquez, Candido V. b. 1887 d. 1947
Vasquez, Christina R. b.1917 d. 1994
Velasquez, Sara Q. b. 18 June 1883 d. 6 May 1947
Vella, Philip b. 6 June 1894 d. 16 Jan. 1967
Vella, Ruth Cannon b. 12 May 1900 d. 16 Dec. 1956
Vellenworth, William b. 1852 d. 1934 "Dad Popcorn"
Ventura , Simona b. 25 Mar. 1900 d. 3 Mar. 1936
Vial, Bettye J. b. 1 Jan. 1931 d. 5 Aug. 1993
Vial, Bruno A. b. 4 Feb. 1930 d. 17 July 1993
Vial, Giovanni b. 1887 d. 1926
Vial, Mario D. b. 4 Mar. 1920 d. 23 June 2001
Vial, Pauline A. b. 6 Jan. 1920 d. 3 Oct. 1992
Vicondoa, Adalena b. 18 Aug. 1930 d. 1 Mar. 1931
Vicondoa, Frank b. 3 May 1932 d. 5 May 1932
Villanueva, Estaouio b. 1896 d. 1931
Viola, Sophie J. b. 24 Jan. 1887 d. 1 May 1958
Vose, David T. b. 1871 d. 1930 - native of Portland , Maine
Vuckanovic, Vaso b. 1883 d. 1950

W
Wadman, Deanna Ferne b. 15 March 1944 d. 15 March 1944
Wagner, John b. 1857 d. 1933 - native of Australia
Wagnon, Ada b. 1892 d. 1951
Waits, Bud b. 2 April 1928 d. 25 Oct. 1947
Waits, Clyde b. 23 June 1899 d. 19 Oct. 1978
Waits, Frances Merle b. 18 June 1902 d. 23 Sept. 1995
Walker , Emily C. b. 1882 d. 1938
Walker , James A. b. 1916 d. 2003
Walker , James M. b. 1874 d. 1948
Walker , Lewis H. b. 23 Jan. 1916 d. 29 July 1960
Walker, Ruth E. Land - no dates
Wall, Andrew - no dates - no marker
Wall, Claude A. b. 13 Aug. 1905 d. 19 Aug. 1967
Wall, Goldie b. 10 Sept. 1917 d. 3 June 2002
Walsh, Joseph P. b. 15 April 1882 d. 25 April 1960
Walsh, Margarite b. 1900 d. 1992
Walsh, Nancy E. b. 23 Jan. 1890 d. 8 June 1967
Walsh, Patrick H. b. 1891 d. 1962
Walsh, Patrick "Pat" b. 16 April 1924 d. 2 Nov. 1953
Walsh, Raoul J. b. 29 Mar. 1933 d. 3 April 1935
Ward, Evelyn A. b. 1914 d. 1981
Ward, Lida O. b. 12 May 1885 d. 17 Dec. 1977
Warner, Annie Young b. 1878 d. 1978
Warner, Constance B. b. 22 Nov. 1951 d. 24 June 1931
Warner, Eleanor S. b. 17 Dec. 1877 d. 13 Dec. 1956
Warner, Frank Elisha b. 1871 d. 1935
Warwick , Mamie Manning b. 1880 d. 1963
Washington , Albert Lee b. 21 Mar. 1954 d. 6 Nov. 1956
Watkins, Luella Mae b. 16 Sept. 1882 d. 7 July 1951
Watson, Elizabeth E. b. 20 Jan. 1886 d. 1 Sept. 1958
Watts , Anne Hylen b. 7 Jan. 1902 d. 6 Dec. 1967
Watts , Lydia b. 10 Aug. 1912 d. 12 Mar. 1976
Watts , Raymond C. b. 18 Jan. 1890 d. 8 Sept. 1980
Webb, Grace Greenwood b. 1879 d. 1966 - Dakota Territory
Webb, Samuel A. b. 12 Aug. 1875 d. 4 Nov. 1961
Webster, Lawrence b. 15 June 1912 d. 6 May 1971
Webster, William T. b. 1859 d. 1935
Weixelbauer, Mary b. 8 Dec. 1872 d. 18 Mar. 1954
Wells, Glenn G. Sr., b. 10 Nov. 1922 d.
Wells, Esther Wiencke b. 1902 d. 1940
Wells, William Terry b. 20 May 1948 d. 25 Feb. 1953
Wemple, Bessie b. 1881 d. 1978
Wemple, Frank O. b. 1875 d. 1953
Wemple, Kathryn b. 1902 d. 1949
Wemple, Paul T. b. 1902 d. 1972
Wemple, Wilma Ruth Taylor McDonald b. 14 May 1909 d. 28 Dec. 1978
Wessler, Joseph b. 6 Jan. 1880 d. 15 June 1950
Wessler, Robert C. b. 1 Jan. 1925 d. 19 Aug. 1946
Wessler, Venessa Mabel b. 4 Jan. 1914 d. 15 Nov. 1973
Westfield , Martin C. b. 12 Feb. 1893 d. 31 Aug. 1953
Weston, Charles Dan b. 16 Dec. 1918 d. 16 Sept. 1974
Weston, Maria b. 1895 d. 1973
Weston, William J. b. 1890 d. 1938
Westphall, William W. b. 20 Nov. 1916 d. 31 Aug. 1944
Wharton, Barbara (Baby) - 21 January 1919 -
Whipple, Albert R. b. 27 July 1887 d. 23 April 1960
Whipple, Edwin DeWayne b. 12 Feb. 1928 d. 22 May 1928
Whipple, Kittie M. b. 1 Jan. 1887 d. 12 May 1978
Whitaker, Lorie Lynn - 5 May 1956 -
Whitcome, Loren Elmer b. 7 Feb. 1927 d. 1 Sept. 1998
White , Frances H. b. 18 Dec. 1933 d. 14 July 1961
White, Harold Aven b. 3 April 1912 d. 8 May 1976
White, Lillian M. b. 29 Jan. 1884 d. 9 April 1967
White, Walter Allen b. 1882 d. 1959
White, Wilma Jean b. 22 Dec. 1931 d. 30 May 1936
Whitely, Martha Bath b. 1912 d. 2000
Whitely, Wellesley A. b. 1908 d. 1975
Whitely, Wellesley E. b. 1937 d. 1954
Whitmire, Eula b. 31 Aug. 1898 d. 19 Feb. 1974
Whitmire, Thomas b. 22 Mar. 1889 d. 16 Nov. 1975
Whitmire, Thomas C. Jr. b. 18 Sept. 1916 d. 24 May 1974
Whittaker, Dallas B. b. 28 June 1895 d. 13 Sept. 1949
Wickware, Herbert L. b. 13 June 1917 d. 16 Nov. 1946
Wilcox, Dale F. b. 23 Aug. 1902 d. 18 April 1928
Wilcox, William A. b. 1901 d. 1924
Wiles, Harry b. 1886 d. 1954
Williams, Baby - 1974 - no marker
Williams, Claude E. b. 1917 d. 1941
Williams, Elzie b. 26 Sept. 1889 d. 8 Sept. 1951
Williams, Hazel G. b. 1910 d. 1948
Williams, Howard C. b. 19 June 1904 d. 8 Oct. 1959
Williams, John - no dates - no marker
Williams, John Wiley b. 23 Mar. 1881 d. 28 Jan. 1932
Williams, Julia J. b. 16 Sept. 1885 d. 23 Oct. 1939
Williams, Kenneth E. b. 15 Mar. 1907 d. 8 April 1947
Williams, Myrtle b. 1889 d. 1949
Williams, Pearl b. 19 Feb. 1894 d. 4 Mar. 1985
Williams, Ruby F. d. 28 April 1970 , age 58 years - no marker
Williams, William - 4 July 1938 -
Wilson, Elwood Manley - 1923-
Wilson , Ernest M. b. 1876 d. 1940
Wilson , Ernest Marvin b. 13 Oct. 1926 d. 15 June 1934
Wilson , Mayme E. b. 13 May 1897 d. 1 Dec. 1933
Wilson , Roscoe L. b. 5 Feb. 1902 d. 21 Nov. 1972
Wilson , Zettie M. b. 22 Jan. 1908 d. 15 June 1992
Wilste, Rose Ann b. 22 Oct. 1944 d. 27 Mar. 1977
Winchester , Alta Mae b. 14 May 1906 d. 3 Nov. 1994
Winchester , Renee Sheri b. 14 Dec. 1964 d. 28 Dec. 1964
Winchester , Robert L. b. 1892 d. 1978
Winchester , Robert L. Jr. b. 11 Mar. 1920 d. 28 Mar. 1941
Winchester , Sadiebell b. 1898 d. 1953
Winston, James E. b. 10 Sept. 1951 d. 13 Nov. 1957
Wirth, Agatha Cramer b. 4 Nov. 1909 d. 23 Oct. 1989
Wobie, George A. - no dates
Wolfe, Geneva M. b. 21 Aug. 1886 d. 18 March 1974
Wood, Allie b. 24 Nov. 1892 d. 13 April 1961
Wood, George T. Jr. b. 1910 d. 1944
Wood, George T. Sr. b. 8 July 1878 d. 18 Aug. 1974
Wood, Lawrence M. b. 1900 d. 1936
Wood, Margaret M. b. 1911 d. 1930
Wood, Rosella b. 11 Aug. 1876 d. 16 Jan. 1964
Wood, Violet L. b. 1900 d. 1934
Wood, Walter W. b. 24 Sept. 1890 d. 26 Nov. 1955
Woods, Edna G. b. 1891 d. 1928
Woods, Herbert b. 1886 d. 1928
Woods, Lavina b. 1903 d. 1935
Woods, Ralph b. 1915 d. 1984
Woods, Verna Maud b. 1896 d. 1960
Woods, Viola b. 1922
Woodward, Anna L. Raymond b. 1848 d. 1932
Woodward, Lanita b. 26 Jan. 1927 d. 19 July 1928
Woodward, Wiley Edgar b. 1891 d. 1941
Worcester , Minnie C. b. 1898 d. 1938
Workman, Leslie C. b. 24 July 1901 d. 10 July 1967
Wragg, Erik Lunden b. 12 May 1953 d. 25 July 1953
Wren, John S. D.D.S. - b. 3 Oct. 1878 d. 26 Nov. 1933
Wright, Fred C. b. 1887 d. 1925
Wright, Fred W. b. 1911 d. 1933
Wright, Margaret b. 1890 d. 1924
Wynant, Floyd B. b. 1890 d. 1955
Wynant, Ruby V. b. 1894 d. 1988

Y
Yates, David Broadus - 23 April 1951 - stillborn
Yazzie, Roy b. 1924 d. 1952
Yeakey, Benton J. b. 27 June 1915 d. 9 Aug. 2002
Ynchauspe, Miguel b. 24 Mar. 1898 d. 25 Aug. 1979
Yoakum, Joseph Holt b. 14 Feb. 1862 d. 29 Jan. 1929
Yockey, Al b. 1907 d. 1952
Yockey, Estelle b. 1903 d.
Yorg, Gesper b. 6 Nov. 1888 d. 15 Mar. 1964
Yorg, Giovanna M. b. 29 Nov. 1904 d. 3 Oct. 1959
York, Andrew P. - no dates (no marker)
York , J.C. - no dates
York , Mae H. b. 28 Sept. 1872 d. 25 Mar. 1958
York , Masten b. 9 May 1872 d. 26 Mar. 1932
York, Oliver "Tad" b. 21 Mar. 1889 d. 30 May 1966
York , Sarah M. b. 1845 d. 1933
Young, Evelyn Sue b. 4 April 1943 d. 14 Mar. 1957
Young, Ivan G. b. 6 Feb. 1930 d. 8 Oct. 1950
Young, Jimmie C. b. 14 May 1935 d. 29 Aug. 2005
Young, Pearl b. 1880 d.
Young, Tosie Ethma b. 3 Dec. 1910 d. 16 May 1988
Young, William F. b. 1877 d. 1953
Younie, Maud M. b. 1874 d. 1939
Younie, Wayne b. 1909 d. 1944
Younie, William A. b. 1872 d. 1966
Yrigoyen, Frank b. 15 Feb. 1934 d. 15 Feb. 1934
Ytzaina, Marie b. 30 July 1893 d. 17 Oct. 1959

Z
Zalba, Jose b. 1902 d. 1962
Zalba , Victoria b. 1898 d. 1973
Zanata, Rinaldo b. 1878 d. 1943 - native of Marlengo , Italy
Zappacosta, Francesco b. 1884 d. 1934
Zarda, Davide G. b. 1895 d. 1949
Zirke, Albert C. b. 13 Sept. 1873 d. 27 Jan. 1952
Zirke, Margaret J. b. 2 April 1872 d. 21 June 1951
Zopi, Mary b. 2 Dec. 1901 d. 20 Sept. 1931
Zoppi, Emilio L. b. 1892 d. 1954
Zubiaurre, Adelina M. b. 8 Aug. 1882 d. 6 Mar. 1968
Zubiaurre, Eusebio b. 16 Dec. 1887 d.
Zubillaga, Emilia b. 15 April 1923 d.
Zubillaga, Jean b. 14 Feb. 1921 d. 7 Aug. 2002
Zunino, Anna b. 12 Nov. 1929
Zunino, Joseph A. Jr. "Tunney" b. 16 May 1926 d. 3 May 1953
Zunino, Luigi b. 1881 d. 1951
Zunino, Marvin b. 2 Mar. 1927 d. 17 Aug. 2004
Zunino, Prudenza b. 1888 d. 1937
Zwiebel, Lee B. b. 21 Aug. 1913 d. 25 Mar. 2001
Zwiebel, S. Anna b. 19 Oct. 1917 d. 10 Dec. 2004



Web Visits:


Last Updated: November 21, 2014
Report web site problems to Attn: Web Coordinator